Wallace Grills Obama Advisor: If Economy's So Great, 'How Come Things Are So Lousy?'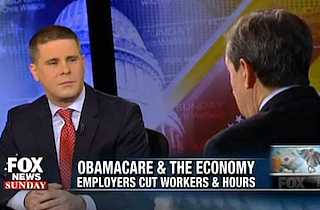 On Fox News Sunday, host Chris Wallace grilled Obama senior advisor Dan Pfeiffer on the economy and Obamacare ahead of Tuesday night's State of the Union address.
"You talk about restoring opportunity: median household income is down, labor force participation is down, food stamps are up, poverty rate is up," Wallace said. "If things are so great, how come they're so lousy?"
"We've made tremendous progress, but there's much more work to do," Pfeiffer said. "We have a series of proposals from last year, and additional ones this year. These are things that have been bipartisan in the past, raising the minimum wage, infrastructure. If Congress were to do that, we would make tremendous progress. This can be a year of action. We can make real progress. But we have to do it together. If Congress doesn't act, the president will."
Wallace also pressed Pfeiffer about companies allegedly cutting workers' hours in response to the regulations of the Affordable Care Act. When Pfeiffer responded that the economy had created jobs despite GOP accusations that it would be a job killer, Wallace slammed on the brakes.
"Wait," Wallace said. "The plan didn't really go into effect until October. And you also delayed the employer mandate for a year."
Pfeiffer responded that companies had always made decisions about whether to keep or cut employee health benefits, but that now employees who lose benefits through their job have guaranteed access through the exchanges.
Watch the full clip below, via Fox News:
[Image via screengrab]
——
>> Follow Evan McMurry (@evanmcmurry) on Twitter
Have a tip we should know? [email protected]