WaPo Reporter: Boko Haram Crisis Underscores Obama's 'Perception of Weakness'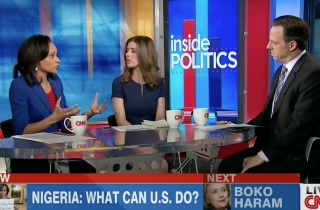 Joining the panel on CNN's New Day, Washington Post reporter Nia-Malika Henderson suggested that the White House engaging fully in the crisis in Nigeria, a country besieged by the terrorist group Boko Haram, may create more political problems for President Barak Obama than solutions. She said that Obama's restrained use of America's power would perpetuate a perception of weakness he created for himself and added that both he and first lady Michelle Obama came to this crisis "late."

CNN host Jake Tapper detected a "sense of futility" in Obama's tone last night while addressing the crisis in Nigeria.
"I think the challenge that this president has, and in some ways has created for himself, is a perception of weakness," Henderson said. "So you imagine that this is only going to underscore a lot of the criticism that people have had of him, which is that there is this sort of shrinking of the American footprint and a shrinking of this idea that America is this indispensible nation."
RELATED: Why Did Kidnapping Girls, but Not Burning Boys Alive, Wake Media Up to Boko Haram?
"There are those, as you know, in the human rights community as well as conservatives who say, 'You know, the limits you are setting you are setting,'" Tapper noted.
Bloomberg News reporter Julianna Goldman observed that the first lady only recently sent out a tweet with a popular hash tag creating awareness about the crisis in Nigeria after it had been circulated millions of times. "They're very late to this sort of groundswell of Twitter activity and Twitter activism," Henderson concluded.
Watch the clip below via CNN:
[Image via screengrab]
— —
>> Follow Noah Rothman (@NoahCRothman) on Twitter
Have a tip we should know? tips@mediaite.com