War On Halloween? Fox and Friends Worry About The Death Of Another American Tradition
War On Halloween?
Fox and Friends
Worry About Ending Another American Tradition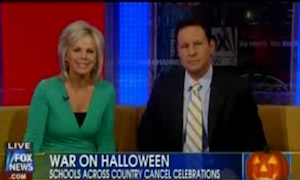 On Monday's Fox and Friends , Gretchen Carlson and Brian Kilmeade reported on the "all out assault on Halloween." "Schools across the country are doing everything from banning costumes to even removing the holiday because it may offend immigrants," Kilmeade exclaimed. Carlson lamented the fact that schools were "cracking down" on Halloween. "I'm sad, I have two little kids and I'm wondering if they're not going to ever see the American traditions that all of us had."
Guest Jamie Weinstein argued that if schools had a good excuse for banning costumes (i.e. it interrupted school work) he would be okay with such "Halloween bans", but explained they were giving asinine excuses like "student exclusion". Weinstein also blasted bans on candy. "I have never once encountered during my years going treat-or-treating someone who overdosed on candy because of one day of enjoying it!"
The commentators appeared to be basing their whole report on an editorial by Todd Starnes who cited one quote (!) to make a sweeping declaration that schools across the country were becoming over-sensitized to the concerns of immigrants. One random quote!
The sensationalism over these alleged wars on holidays is really starting to run its course — don't we have more pressing matters like ocean acidification or melting ice caps to worry about?
Watch the Fox and Friends fight the good fight against Halloween haters below via Fox News:

PS Please do send truckloads of candy corn to Gretchen Carlson, she says she loves it:
Gretchen Carlson
Fox News
1211 Avenue of the Americas
18th Floor
New York, NY 10036
(h/t MM)
Have a tip we should know? tips@mediaite.com