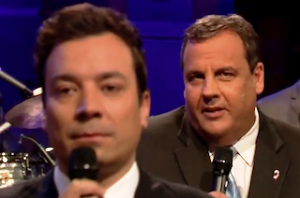 New Jersey Governor Chris Christie has been taking some serious heat for his decision to hold a special election to fill the late Sen. Frank Lautenberg's (D-NJ) seat. So there was really only one way for him to properly communicate his reasoning to voters. Christie followed in his good friend President Obama's footsteps Wednesday night and Slow Jammed The News with Jimmy Fallon.
While Christie made the sincere case for why he decided to "let the people vote on their new senator" and avoid "another unelected politician just sitting around the Congress," the sexual innuendo and fat jokes fell mainly on Fallon's lap.
"Chris Christie's about to give the people of New Jersey a huge election," Fallon intoned. "And he's putting in the hands of the people. So watch out, because it's coming prematurely. October 16th to be exact." Later, he said of "love Gov" Christie, "When he sits around the House of Representatives, he really sits around the House of Representatives."
Fallon tried to goad Christie into making a big 2016 announcement on his show, but naturally the governor wasn't having any of it. Instead, The Roots briefly broke out of the slow jam music into a version of "Born to Run" by Christie's hero Bruce Springsteen.
With the song, Christie made some of his strongest arguments to date that the only way to preserve proper representation in the Senate for the people of New Jersey is to spend $25 million on a special election. He may have "thrown his full weight" behind his decision, but he neglected to mention that it has the added political benefit of keeping Newark Mayor Cory Booker off his ballot in November. But that's just how Christie slow jams the news.
Watch video below, via CNN:
—
>> Follow Matt Wilstein (@TheMattWilstein) on Twitter
Have a tip we should know? tips@mediaite.com