WATCH: Ellen Tries to Prove She's Not the Right Person to Replace Letterman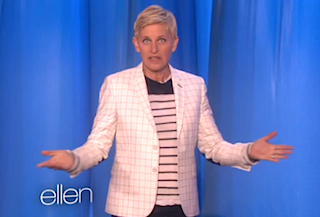 Ellen DeGeneres finally addressed those rumors that she could be in the running to take over the Late Show on CBS after David Letterman retires during her daytime show Thursday. While DeGeneres said, "I am very flattered but I really love doing my daytime show," she did decide to show her audience what it might be like if she did get the late night gig.
As DeGeneres explained, "Nighttime is very different, there's a lot of political humor, which I don't do. But I feel you don't know if you're good at something until you try it. So I'm gonna see what it would look like if I did do a late night show." She then restarted her show, complete with a big blue curtain that she had some trouble getting through and some classic late night entrance music.
As opposed to her more personal stand-up material, DeGeneres attempted to tell some jokes about Obamacare and and Colorado pot. She then presented a "Top 11" list of her own pets. "I'll stick with daytime for now," she said. "I would like to say to David Letterman, you are an incredibly brilliant and clever man. I've been a fan, I've loved watching, you've made us happy for over 30 years." From there, she introduced Pharrell Williams who played — what else? — "Happy."
DeGeneres may have been trying to prove that her brand of comedy is not suited to the late night format, which may be true in the traditional sense. But if CBS wanted to take a chance and try something new and different after Letterman leaves, there's no reason she couldn't succeed on her own terms at that hour.
Watch video below, via The Ellen DeGeneres Show:
[photo via screengrab]
— —
>> Follow Matt Wilstein (@TheMattWilstein) on Twitter
Have a tip we should know? tips@mediaite.com