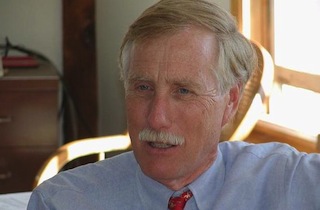 Senator Angus King (I-ME) made waves Thursday morning when he very indirectly indicated he may caucus with the GOP if they take the Senate in the 2014 midterms. "I'll make my decision at the time based on what I think is best for Maine," King told The Hill.

King was elected in 2014 as an independent, and rebutted GOP advances to caucus largely with Democrats, a move he openly admitted was somewhat political, given that the Democrats held a fifty-five seat majority. "In the situation where one party has a clear majority and effectiveness is an important criteria, affiliating with the majority makes the most sense," he said at the time.
But Democrats face an uphill battle in retaining the Senate; a number of red state Dems are up for reelection, midterms are notoriously rough on the President's party, and Republicans tend to have higher turnout in non-presidential year elections. All of this could be changing King's mind.
Another potential indicator: yesterday King voted with Republicans against the Paycheck Fairness Act. "I'm wholly committed to equal pay for equal work, but I just felt this bill had some provisions that would not further the goal and, in fact, would be very burdensome, particularly the provision that, in effect, requires a business to prove a negative," he said.
Or this could be a lot of hoopla over nothing; just in the past three weeks, King has openly defended the Affordable Care Act and offered to waterboard former Vice President Dick Cheney, neither of which are star positions on the GOP platform.
[h/t The Hill]
[Image via Handout/Reuters]
——
>> Follow Evan McMurry (@evanmcmurry) on Twitter
Have a tip we should know? tips@mediaite.com