Watch the Press Conference Where Ted Cruz Goes Nuts Denying Every Allegation Imaginable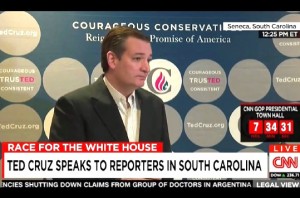 The Supreme Court. CNN's reporting. Marco Rubio's immigration record. Donald Trump's temperament.
Was there anything that Texas Senator Ted Cruz didn't aggressively address in his bizarre press conference Wednesday afternoon?
The pressure is on to be sure. In South Carolina, voters will make their way to the polls in just three days for the state-wide Primary, and Cruz is hoping to repeat his success in Iowa by finishing on top. But in his way are a swirling list of controversies that have dogged his campaign appearances, and the Texas Senator used the opportunity on Wednesday to try and swat away as many of them as possible.
Just as CNN covered the Cruz press conference live, political media had a field day on Twitter, frequently bashing the presser's rambling:
this epic news conference is stark display of Cruz's appeal to base. Also, why the other candidates (and senators) don't like him at all.

— Rick Klein (@rickklein) February 17, 2016
This Cruz press conference another reminder of degree to which leading Republican candidates are attacking one another's very character…

— David Folkenflik (@davidfolkenflik) February 17, 2016
Ted Cruz is still talking.

— Blake Hounshell (@blakehounshell) February 17, 2016
Sounds like @tedcruz is doing a Festivus-style Airing of Grievances right now…

— Andrew Rafferty (@AndrewNBCNews) February 17, 2016
Falsehoods have no place in american politics — Ted Cruz, prompting the world's collective eyes to pop out they rolled so hard

— john r stanton (@dcbigjohn) February 17, 2016
CNN's Dylan Byers took particular offense to the Texas Senator's assertions that it was the network's reporting the night of the Iowa Caucus that caused the Cruz campaign to target supporters of Ben Carson, who the campaign said was dropping out of the race. CNN has passionately defended it's reporting the night of the Caucus:
Ted Cruz, minutes ago: "Ethics matter"

Ted Cruz now: Claiming that CNN reporting something that it never reported.

— Dylan Byers (@DylanByers) February 17, 2016
Cruz *again* falsely claiming CNN reported that Ben Carson was suspending campaign.

CNN NEVER REPORTED Carson was suspending his campaign.

— Dylan Byers (@DylanByers) February 17, 2016
Ted Cruz was "taking it to a new level" said CNN's Jim Sciutto of the press conference, which you can watch above.
[image via screengrab]
—
J.D. Durkin is the Senior Editor of Mediaite.
This is an opinion piece. The views expressed in this article are those of just the author.