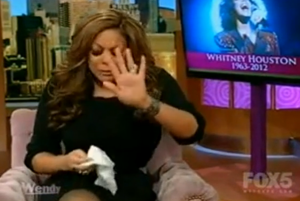 Talk show host Wendy Williams gave a heartfelt tribute to the late Whitney Houston on her show Monday morning, and candidly described her own battles with substance abuse. "I was at home in New Jersey when I heard the news, and I don't remember much else after that," Williams revealed. "I know I was not answering phone calls, I wasn't making phone calls. I turned off the TV. I did not watch the Grammys. I did not watch the Fashion Police before the Grammys. Like, I did nothing…I kind of shut down. and, you know, went into my shell and thinking about Whitney."
RELATED: Jennifer Hudson's Emotional Grammy Tribute To Whitney Houston
Williams and Houston had been long-time rivals ever since their notorious radio interview in 2003, when she had interrogated the R&B singer over her alleged drug abuse. Houston told Williams, "If this were back in the day in Newark, I'd meet you outside."
Williams was not bitter that they had never made up following the heated interview.
"Whitney's death — everybody is going to be talking about it today, tomorrow, next week, next month. After I say what I say, I'm not talking about it anymore. You'll have to turn on Entertainment Tonight, The View, their hot topics. I'm out. I felt very close to Whitney. Even though this is a woman that I've never met. Never met her. Never been in the same room with her, except for one time in my life in 1985 when her first appearance at my radio station at college in Boston, Northeastern University, and this new singer with this great voice came to Constitution Hall, and that's the only time in our entire lives that Whitney and I have ever even been in the same room together. Ever. I had a very long radio career, over 20 years. I interviewed Whitney once. In 2003. And many of you all recall that interview. Some of the things that Whitney and I have in common that bonded us. The love of our mother and father. Mr. Houston has since passed. Mrs. Houston and — you know, my mother, are around the same age. Whitney and I, same age. And both plagued with the demon of substance abuse. It's been almost 15 years since I smoked last from a crack pipe. 15 years since on Jerome Avenue in The Bronx. For my drugs."
"I'm not proud of the girl I was," Williams continued. "But without being that girl, I wouldn't be the woman that i am today. So if it makes any sense to you, I have no regrets. There's one thing throughout it all. My connection with Whitney…that I wished for us both to be really sober and really aware and I knew I would meet her one day…I always pictured that time to be in our late 50s, 60s with her being the number-one spokesperson for "Say no." I just for some reason thought that that's what she would do. It's what I want to do. I just thought we would meet, and we would hug and we would be sober and older and…"
Williams struggled to maintain composure as she spoke movingly about her bond with Houston, holding on to a photo of the pop star.
"She was a woman like me who is part of the subculture of our society, the addict. So today on behalf of me and anybody that you might know who is going through a struggle with substance abuse, anybody, and I don't care whether it's heroin, coke, pills, booze, reach out to that person. I'm one of the lucky ones. Reach out to that person and call them out on it, because even if they don't quit, once you call them out, it makes it harder for them to sneak around and get high and I guess that's all I wanted to say. I've never done this before on this show, but I'm telling you now that I don't have anything more to say regarding this particular case. it's just sad. and — it's just sad. I love you, Whitney."
Watch Williams' tearful tribute to Houston below:

Have a tip we should know? tips@mediaite.com