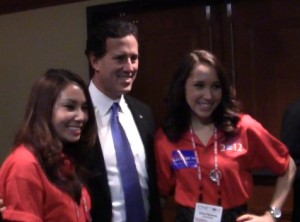 The 2012 Republican presidential race has seen more than its share of ups and downs, and continues to confound a slow-to-catch-on political media who have been sewing this thing up for Mitt Romney for months. Now, buoyed by last week's 3-state sweep, former Sen. Rick Santorum is decidedly up, taking a 15 point lead in the latest Public Policy Polling national survey of "usual Republican primary voters." (resisting the urge to call "usual Republican primary voters" an oxymoron)
Rick Santorum's arc is one of the undertold stories of the 2012 Republican primary. Thus far, the far-right social conservative has been royally screwed by a combination of factors, not the least of those being the political news media. Dismissed for months due to a lack of name recognition and a slate of socially conservative positions that conventional wisdom says makes him unelectable, Santorum began to get some traction with a late surge in Iowa.
Now, the Cornfield State (or whatever you call it) definitely screwed Sen. Santorum over by mistakenly declaring Mitt Romney the winner for several weeks, but even then, it was an eight-vote victory. Even more amazing, in this era of increased scrutiny on the role of money in politics, Santorum won Iowa while spending about an eighth of what Romney spent per vote. The media shrugged it off with a "close, but no cigar, and f**k it, it's just Iowa anyway," so Santorum was unable to build momentum on his win.
After an as-expected poor finish in New Hampshire, Santorum could have been positioned as the conservative alternative to Mitt Romney going into South Carolina, a title of which he is surely more deserving than Newt Gingrich. Denied any benefit from Iowa, Santorum was screwed again, this time by billionaire Sheldon Adelson, without whom SC victor Newt Gingrich might have withered like a slug on a salt lick.
What ought to gall Santorum most is that Gingrich, who has been stealing his non-Romney mojo for months, gets all this credit for being a great debater, even though almost all of his big hits have been at the media, not his debate rivals. However, it's Santorum who has cleaned clocks (including Newt's) consistently at debates, even though the media gave him little attention, or screen time.
All along, the chatter from the Beltway media has been that Mitt Romney's money advantage will allow him to outlast his competitors, despite this cycle's remarkable flattening of that advantage through debates, free cable news airtime, and Mitt Romney's tendency to open his mouth.
Now, Santorum has his own SuperPAC sugar daddy, a string of victories under his belt, and a huge national lead in at least one poll. As PPP notes, Santorum is absolutely killing it with "very conservative" voters at 53%, to 20% for Gingrich and 15% for Romney.
Time will tell if Santorum can capitalize on this shift. At this weekend's Conservative Political Action Conference, Santorum was given the rock star treatment, an indication that there is real energy for his campaign among conservative activists. The bad news is that Mitt Romney got a surprisingly rousing (and uniform) reception, an indication that this crowd is at least putting on a good game face for the guy they keep being told will be the nominee.
Have a tip we should know? tips@mediaite.com