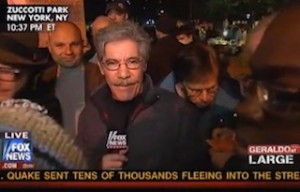 Give Geraldo Rivera credit. He was undeterred by any animus exhibited towards "corporate media" behemoth Fox News last night by Occupy Wall Street protesters during last night's live report at Zuccotti Park. Producers of his show Geraldo at Large, however, may not be as deserving of accolades, evidenced by the odd decision to tape a live segment dedicated to the Baby Lisa tragedy amidst the protesters, which in hindsight, probably went better than one could reasonably expect.
Geraldo was ostensibly hosting his Sunday night show live from the epicenter of the Occupy Wall Street movement, though he did have some studio help from Fox News headquarters in midtown. While it made sense for the parts of his show that were dedicated to the protest movement, when they came to other subjects — like the sad story of the missing baby from a suburban Kansas City home — the imagery was incongruous at best. Geraldo's legal and pathology guests put on a brave face, though Dr. Michael Baden looked like he couldn't get out of there fast enough.
Like any cross-section of the American population, the crowd of protesters at Zuccotti Park is a mixed bag, especially when it comes to visiting television personalities and their production crews. Some welcome the attention, while others welcome the opportunity to mess with a corporate media outlet. This was the case at the end of the segment, when the camera panned to capture the protesters watching the taping, many of whom offered their opinion via a one-finger salute.
Watch the clip below, courtesy of Fox News:
Have a tip we should know? tips@mediaite.com