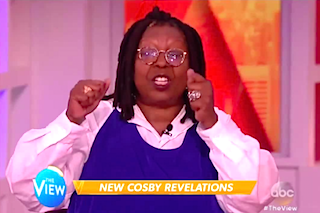 From the beginning, The View's Whoopi Goldberg has been one of Bill Cosby's most vigorous defenders. After she demanded answers from his most vocal sexual assault accuser last fall, Cosby personally thanked her on Twitter for her support.
But now that new court documents have emerged in which Cosby admits to procuring Quaaludes with the intention of drugging women for sex, has she changed her mind? Apparently not.
The Cosby story led The View Tuesday morning, but Goldberg quickly made it clear that the new evidence has not persuaded her of anything. When one of her co-hosts pointed out the more than 40 women who have come forward to accuse Cosby of rape, Goldberg made sure to specify the case in question only relates to one woman.
Later, Goldberg joked about being a "former Quaalude user" and said she doesn't "like snap judgments" because she's seen people do the same to her. "Save your texts, save your nasty comments, I don't care," she added to cheers from the audience.
"I say this because this is my opinion, and in America still, I know it's a shock, but you actually were innocent until proven guilty," she continued. "He has not been proven a rapist." Asked then what the "motivation" for dozens of women to come forward to accuse him, Goldberg responded, "What was the motivation for an entire party to decide that I was a rotten person? I don't know."
"When somebody ruins your reputation, it's the same thing," Goldberg said. "And nobody asked me if it was true, they just said it."
The comedian's Cosby Show co-star and newest host of The View, Raven-Symoné, was also hesitant to say anything negative about him. "I don't like to talk about it that much, because he's the reason I'm on this panel in the first place, he gave me my first job," she said. "At the same time, you need the proof. Then I'll be able to give my judgment here or there."
As Nicolle Wallace noted, one figure who used to be aligned with Goldberg but has since changed her mind is singer Jill Scott, who still calls Cosby a "mentor" but found his testimony to be proof enough that he is guilty. She tweeted yesterday:
About Bill Cosby. Sadly his own testimony offers PROOF of terrible deeds, which is ALL I have ever required to believe the accusations.

— Jill Scott (@missjillscott) July 6, 2015
1) We live in America. Many African American men are detained &/or imprisoned for crimes without evidence. I will never jump on bandwagons

— Jill Scott (@missjillscott) July 6, 2015
2) based on social media or hearsay. Proof will always matter more than public opinion. The sworn testimony is proof. Completely disgusted.

— Jill Scott (@missjillscott) July 6, 2015
I stood by a man I respected and loved. I was wrong. It HURTS!!! When you get it ALL right, holla.

— Jill Scott (@missjillscott) July 6, 2015
Reasoning with the angry & unreasonable? No. I'm not sorry for standing by my mentor. I'm sorry the accusations Rtrue pic.twitter.com/8oHD9u12em

— Jill Scott (@missjillscott) July 7, 2015
Watch video below, via ABC:
[Photo via screengrab]
— —
>> Follow Matt Wilstein (@TheMattWilstein) on Twitter
Have a tip we should know? tips@mediaite.com