Williams Battles Hume over Gyrocopter Response: We Can't Just 'Start Shooting Everybody'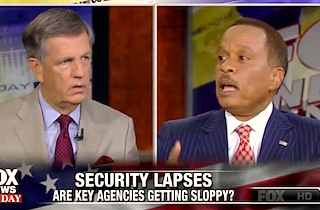 Fox News contributors Juan Williams and Brit Hume went at on Fox News Sunday over whether Capitol Police (or any other gummiment police force) should have shot down the man who landed a gyrocopter near the Capitol last week. The man, a Post Office employee, said he was delivering letters to legislators protesting Citizens United, and was then arrested.
After joking that the man might very well have gotten shot down had he been Muslim, Williams cautioned against getting trigger happy over anything that happens within range of a federal building. "We don't need to be the Kremlin here," he said.
"When he was in the air we didn't know what he was carrying," host Chris Wallace pointed out. "He could have been carrying a bomb or a chemical agent."
RELATED: Lindsey Graham: I Don't Know Why Gyrocopter Wasn't Shot Out of the Sky
When Williams said that we needed to not be "extreme and hysterical," Hume appeared flabbergasted. "A vehicle coming down the Mall, you wouldn't shoot it?" he asked.
Williams pointed out that the "incompetence" in the situation happened before the man's flight, as authorities had plenty of warning. "But to start shooting everybody and throwing up fences and steel tips in front of the White House?" he said. "This is crazy."
"Everybody?" Hume said. "Not everybody flies down the Mall in a gyrocopter towards the Capitol."
Watch the clip below, via Fox News:
[Image via screengrab]
——
>> Follow Evan McMurry (@evanmcmurry) on Twitter
Have a tip we should know? tips@mediaite.com