Winners Of The Week: Morgan, Musburger, Miss Twitterverse, Trump, And Torture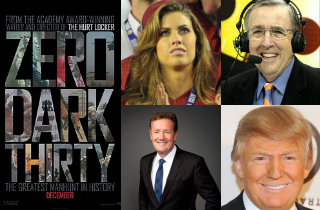 With the Countdown to the Cliff behind us only to be replaced by a Countdown to the Ceiling, the week in news enjoyed what can only be termed as an eclectic week (even for cable) on the big stories front.
So who and what emerged victorious in the eyes of one inconsequential writer?
Funny you asked…
Winner: Piers Morgan
For wisely taking ownership of the gun debate narrative…
You want a scathing critique on Fox News on a now-nightly basis? Go to Jon Stuart Leibowitz.
You want a (one-sided) nightly analysis on race relations inside the Beltway? Go to Hardball.
You want a (one-sided) nightly analysis on Second Amendment rights? Go to Hannity.
You want a candid debate on guns and gun culture in the U.S.? Piers Morgan owns it… thanks to an interview that was the toast of Twitter Monday night.
That interview, of course, is the now-infamous/epic confrontation with gun advocate Alex Jones, the man behind a petition to send the "Redcoat" (his words) back to Britain. And after watching the bizarre, yet strangely compelling exchange (i.e., Jones: "1776 will commence again if you try to take our firearms!"), the only hope is the demonstrative 38-year-old radio host and owner of 50 weapons becomes the poster child for gun control (and by the way, either I'm aging exceptionally well at 41 or Jones ain't 38…I'm going with the former and latter here).
Watershed moments in the success or failure of on-air talent are a combination of timing, luck and, well, talent. In this case, Piers could have very well ignored Jones or mocked him about the petition from afar. Instead, by confronting his tormentor directly on-air and allowing him room to express opinions he's obviously fervent about, Morgan—via Jones—got major play in social media and wisely ran with the discussion all week, primarily with those who disagreed with his position.
The only question now is: Can Morgan maintain the momentum?
Winners: Katherine Webb / Brent Musburger:
Monday night also featured the most manufactured controversy of the young year in the form of a former Miss Alabama.
As you've probably heard, Ms. Webb enjoyed more than a few reaction shots as her boyfriend's Crimson Tide were rolling over Notre Dame in the BCS Championship Game. During one such shot, ESPN play-by-play announcer Brent Musburger, a man with 44 years in the business and one who has avoided anything remotely resembling controversy, complimented Webb by calling her…GET THIS…a "beautiful woman."
Not a "piece of ass"…
Not a "hottie with a body that won't quit"…
Just a beautiful woman…
In other words, this wasn't an overserved Joe Namath declaring his intentions for first base with ESPN sideline reporter Suzy Kolber.
It wasn't David Letterman making rape jokes about then-14-year-old Willow Palin.
Ironically, folks like FBN's Imus called Brent "creepy." ESPN -– once dubbed the worldwide leader of sexual harassment as documented through Michael Freeman's bestselling ESPN: The Uncensored History –went to the extreme politically correct route and actually apologized for Musburger.
Fortunately, most women in cable news found Brent's comments benign, even hilarious, and Brent ended up coming out on the winning side.
As for Webb, she basically laughed off the comments, has gone from having 2300 Twitter followers before the game to over 260,000 and is even rumored to have signed a lucrative contract to appear in Sports Illustrated's Swimsuit Issue.
All thanks to ESPN and the PC Police…
Winner: Chris Christie
As a resident of New Jersey for most of my life, to see any Governor—and a Republican one, no less—own a 73 percent approval rating is more shocking than Argo not being nominated for Best Picture. Even more remarkable is Christie's 62 percent approval rating among Democrats. Remember… this is a state the President carried by 18 points in November.
But can Christie survive the GOP nominating process in 2016?
With both parties drawing the ire of the public — particularly the GOP in Congress — (more on that in a moment), perhaps running as an independent is the way to go. Stay tuned…
Winner: Replacement Refs
As just mentioned, Congress' approval rating is at an all-time low.
How low?
Even the NFL replacement refs — the ones responsible in the worst call in league history earlier this season in Seattle — are MORE popular, according to one of the better polls ever conducted by Public Policy Polling.
Also more popular than D.C. lawmakers are root canals, head lice and used-car salesmen.
USA! USA!
Winner: Donald Trump
For somehow staying relevant after the public relations disaster that was 2012…
Trump's latest effort to remain in the public eye came after accepting a $5 million wager from HBO's Bill Maher…a bet daring the real estate mogul to prove he wasn't the spawn of an orangutan (yup…this is a former 66-year-old presidential frontrunner and one the president's top donors, age 56, on display). Trump provided the requisite documents and is now demanding Maher to pony up, threatening to sue if he doesn't.
Say what you will about Trump, he knows what makes cable news tick (Hint: it ain't coverage of civil war in Syria; 60,000 dead).
Know this: A lawsuit will be filed, only for the sheer sensationalism of it all.
And yes, the merits of said suit will be analyzed endlessly from Megyn Kelly to Anderson Cooper to Lawrence O'Donnell…
Winner: Al Gore:
If we're strictly talking business and profit, the former Vice President walking away with $100 million from the MTV of the Mideast otherwise known as Al Jazeera is an absolute steal.
Not a bad deal for a network best known for two of its reporters wandering into North Korea and getting thrown in prison. The two were eventually released only after a former President (Clinton) went to Pyongyang to ask for their release.
In light of the sale, some of Current's staff is justifiably pissed about Gore selling out to big oil.
Former Michigan Governor and Current host Jennifer Granholm even left the station the day news of the deal broke. But all is not lost for the dozens out there who still want their Current TV: Cenk Uygur announced that his show will continue for the next three months.
Winner: Zero Dark Thirty
The movie wins simply for being rejected by Hollywood for showcasing (gasp) torture, particularly waterboarding, which provided information that led to the killing of the world's most wanted terrorist.
After all, why else would such a critically-acclaimed movie (a whopping 94 percent approval rating from critics on Rotten Tomatoes) from an Oscar-winning director (Kathryn Bigelow, Hurt Locker), get snubbed in such spectacular fashion by the cinema establishment during Wednesday's Oscar nominations?
But true to our culture, rest assured that the backlash from progressives and general discussion around the torture scenes will only drive more folks to theatres during its national release Friday.
No statue for Bigelow…
But plenty of green.
— —
>> Follow Joe Concha (@ConchSports) on Twitter
Have a tip we should know? tips@mediaite.com