Yes, Piers Morgan's Wide Ranging Interview With Sen. Scott Brown Includes A Naked Wife Story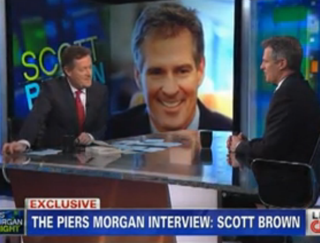 Massachusetts Senator Scott Brown's interview with Piers Morgan began on a rebuttal. Morgan's previous guest, Karen Santorum, had said she tried to laugh at the senator's birth control joke at her husband's expense, but she didn't seem too happy. "I took a whack at everybody," he explained, before diving into an extended conversation with Morgan that explored his reasons for running for reelection, his experience hanging out with Gene Simmons, and the time his wife greeted him naked in the driveway (really).

RELATED: Sen. Scott Brown Zings Santorum: Getting Secret Service Was 'The First Time He's Actually Used Protection!'
Sen. Brown didn't seem to regret that Mrs. Santorum was not particularly ecstatic ("she wanted me to give you a good kicking," Morgan joked) at him joking that her husband had never "used protection" before getting Secret Service agents. "That is an even that is historically funny," he explained of the venue in which he gave his speech, adding that "I took a whack at everybody" in roast form since that was the tradition. His explanation accepted, Morgan teased him with an Esquire profile on himself the senator had yet to read, where his wife described him as "chocolate with all the nougat and the caramel and the nuts"– a complete package, if you will. Clearly delighted with the portrayal of Mrs. Brown in the profile, Morgan asked about one particular anecdote– in which the senator's wife, after being hassled for taking too long to get ready to go to a store, showed up to the car completely naked and asked, "how's this?"
"First of all– we live in a dead end, it's very hard to see the house," Sen. Brown clarified, adding that she immediately hopped into the car (Morgan praised his "good work" for subsequently driving "20 minutes before stopping to allow her to dress"). The moral of the story, Sen. Brown concluded, was that his wife made a "valid point" that he should relax once in a while, and still occasionally threatens to leave naked.
Sen. Brown did spend most of the interview on politics, however. He took a clear stand "in favor of contraception rights for women– I think it's important for us to have religious protections," he told Morgan. He praised Mitt Romney as "one of the nicest, most hard-working people I've ever met" and noted that he had a great sense of humor. While he did agree with Morgan that Santorum "conveys an air of authenticity," he considered Romney's record superior and expected him to pull through the primary.
As for Gene Simmons, Sen. Brown admitted to being "a Kiss fan since I was a young boy," and found him extremely knowledgeable, particularly on Israel, when he spoke to him when they first met. Having competed against him on Celebrity Apprentice, Morgan agreed. "He's infuriating, but very knowledgeable." Sen. Brown didn't skip a beat– "so are you!"
The interview via CNN below:

Have a tip we should know? tips@mediaite.com