Yes, Really: Matthews Panel Wonders How Colorado Shooting Will Impact The Presidential Race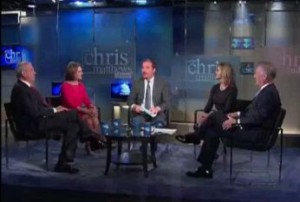 Let's face it, if your job involves talking about politics, and the biggest news story you have to talk about is a nonpolitical one, you're probably going to try and find a way to give said event some political context. But you're going to make a lot of people uncomfortable when you take a horrible shooting incident and ask what impact it will have on the presidential race. Which is pretty much what everyone on The Chris Matthews Show did today for about two minutes, with Chuck Todd filling in for Chris Matthews.
RELATED: President Obama Addresses Tragic Aurora Movie Theater Shooting
Todd observed that last week was mostly a vicious one for politics, and then after news broke of the shooting, the race became much less toxic. Dan Rather predicted it would not last long, saying that the campaign rhetoric has become rather "bland and irrelevant." CNN's Gloria Borger said that Americans look to the president as a "national pastor" in times of crisis.
Todd asked if the negative ads were in such bad taste that the campaigns pulled them down after the tragic news broke, why are they up to begin with? Kathleen Parker said the campaigns would be well-advised to rethink the negativity in the weeks and months to come. Todd then speculated on what this whole tragedy means for the election, asking "Can an event like this shake the campaigns… out of the small and petty?" David Ignatius threw cold water on the idea, given how little other tragedies have affected national politics.
And then, as if to answer his own question, Todd immediately switched into full campaign discussion mode, highlighting the "small and petty" fights that have already gone on in the campaign. Rather predicted that Romney's refusal to release more tax returns will hurt his campaign, while Borger said that the Obama campaign's strategy boils down to making Romney out to be a "secret, outsourcing rich guy who doesn't understand your problems."
Parker brought up the "felon" charge that dominated the news cycle for a few days, and said that several independent fact-checkers have cleared Romney from some of the Obama campaign's attacks. Todd brought up the hypothetical couple "Joe and Jane Smith from Toledo, Ohio" and wondered what people like them want the media to ask Romney about his taxes. Rather said the American people celebrate success, so long as it is gotten fairly.
Watch the full segment below, courtesy of NBC:
Have a tip we should know? tips@mediaite.com
Josh Feldman - Senior Editor