Yikes: Australia's Got Talent Stand Up Busted For Plagiarism, Tries (And Fails) To Bounce Back With Own Jokes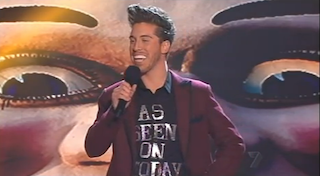 I'm going to warn you right now; this is one of the most uncomfortable videos ever.
The Comic's Comic has the story of Jordan Paris, a 22-year-old singer and actor who got to the semi-finals of Australia's Got Talent as a stand up. Unfortunately, news recently broke that he'd stolen all of his jokes from the popular professional comics Lee Mack and Geoff Keith (how do people like this think they won't get caught?). Last night, the show gave Paris a chance to redeem himself by performing his own jokes and it went…poorly.
I guess you have to give Paris credit for even taking the stage. He took the only possible route and made all of his jokes about the scandal and, y'know, they weren't terrible…Yeah, ok, like 85% were terrible. Still, even if a few weren't cringe-worthy, he was in an impossible position. These would have had to be the best jokes ever written for the guy to make up for his sins. It certainly didn't help that half of his bits were about his big teeth so he had to stand there with a pained grin the entire time.
The weirdest part of the whole situation was the attempt the show's producers made to frame the whole thing as this inspirational story of redemption before his set starts. They even try to compare his joke stealing to musicians doing covers which, as the Comic's Comic or anyone else with half a brain could tell you, isn't a comparison that works. Once the jokes start bombing, you can see the looks on the judges' faces as they cut their losses and shift gears.
I haven't even mentioned the part where he breaks into The Bee Gees' "I Started a Joke." At least that was an original and clever way for a comedian to apologize.
Oh, wait…
(h/t The Comic's Comic via Splitsider)
Have a tip we should know? tips@mediaite.com