'You Don't Go To Bachelor Parties': Carl Icahn Takes On Anchor Over Trump's 'Pussy' Comments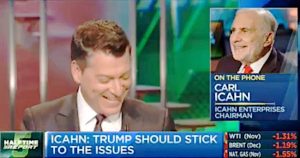 During an interview on CNBC earlier today, billionaire and Donald Trump supporter Carl Icahn accused host Scott Wapner of either being a hypocrite or not going to bachelor parties when it came to being disgusted by Trump's "grab 'em by the pussy" remarks.
After discussing stocks for a bit, Wapner switched the conversation to Trump since Icahn has made it known he is supporting the Republican presidential nominee. Wapner wanted to know if Icahn wanted to defend Trump's comments.
Icahn expressed his opinion that he wasn't necessarily going to defend the real estate mogul on this but wanted to note that the vast majority of elected officials would be in hot water if anyone heard what they'd say in private. He also brought up John F. Kennedy and Bill Clinton for their womanizing ways.
Eventually, Icahn parroted the Trump's campaign's use of the term "locker room talk," leading Wapner to say he wasn't sure what locker rooms Icahn was hanging out in. This led to the billionaire to go after Wapner for hypocrisy or going to boring "bachelor parties."
"I have gone to bachelor parties, so let's talk about bachelor parties," Icahn told Wapner. After they both laughed for a bit, Icahn then stated the following:
"Scott, you're not going to tell me that you haven't gone to a bachelor party and heard that kind of language. Are you going to tell me that? You don't go to bachelor parties or you're a hypocrite."
A clearly uncomfortable Wapner then moved the conversation to Trump's chances in the election and if Icahn thought he could still win.
Watch the clip above, via CNBC.
[image via screengrab]
–
Follow Justin Baragona on Twitter: @justinbaragona
Have a tip we should know? tips@mediaite.com