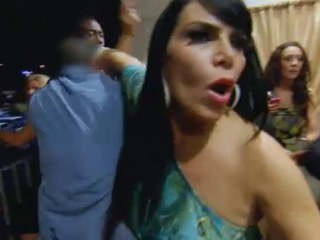 On this season's second episode of your very favorite show, Mob Wives star Renée Graziano's "celebration of life" / birthday party came to an explosive, bloody, expletive-laden end. Who knew combining reality TV stars, cameras and alcohol could end so badly?
In the unlikely event that you haven't been watching the show (I mean, what else would you be doing?), it's worth noting that there's been a long-simmering feud between two of the cast members: Drita D'Avanzo, wife of perpetual criminal Lee D'Avanzo, and Karen Gravano, daughter of the Gambino crime family's Sammy "The Bull" Gravano, and the ex-girlfriend of Drita's husband. Drita is also not too fond of Karen's childhood friend Ramona Rizzo, who happens to be the granddaughter of mobster Benjamin "Lefty Guns" Ruggiero. Kind of like my group of girlfriends, sort of, only slightly less violent.
RELATED: Chinese Reality TV Star Becomes State Enemy After She Jokes About Liking BMWs
Tensions among the women came to a head at Renée's "life celebration," when the three decided that, not only would a birthday party be a good a moment as any to bring up past grievances, but a balcony would be the best place to have such a conservation. They were on each other faster than body glitter on leopard print sheets.
Renée, like a beautiful fog horn in the night, came bellowing out onto the balcony in an attempt to break up the fight. She attempted to comfort a bruised and battered Drita, only to discover that Drita thought Renée had set things up, so that she'd get beaten up by Karen and Ramona. "It looks like a f–kin' set up," Drita observed.
Ramona, who suffered a bloody lip in the scuffle, blamed Renée's friend Derek of having slugged her. She and Karen tore through the party like an acrylic through an extension, trying to find the elusive Derek in order to return the favor.
All in all, it was one of Renée's better parties.
Check it out, via VH1:
Have a tip we should know? tips@mediaite.com