(UPDATED) N.C. Gov. Apologizes After Saying Gay Marriage Ban Made State 'Look Like Mississippi'
UPDATE: Mediate editor Noah Rothman, as well as Huffington Post, was completely had today by a fake twitter account which was purported to be that of North Carolina Gov. Bev Perdue.
We sincerely apologize for the inaccurate report. I wish we could have blamed the error on Twitter's verification system, given that has become a less-than-reputable measure of an individual's existance, since Twitter has been verifying fictional accounts (like Dallas' J.R. Ewing) and Gov. Perdue's real account remains unverified.
What follows is the original and unedited piece that ran on Mediaite in which it was reported that Perdue had apologized for remarks she made about Mississippi voters: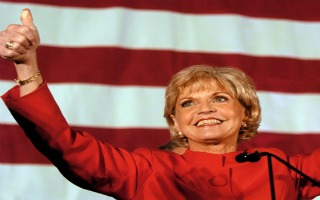 North Carolina's Democratic Gov. Bev Perdue proved once again why she is retiring after a single term in office on Monday when she issued an apology to the state of Mississippi and Republican Gov. Phil Bryant. She offended many in the Magnolia State when she said that a recently passed constitutional amendment that banned gay marriages in the Tar Heel State made them "look like Mississippi."

RELATED: North Carolina Governor: Marriage Vote Makes State 'Look Like Mississippi'
Perdue said she apologized for her condescending and thoughtless remark that was meant to suggest that Mississippi's voters were bigoted, but reflected more poorly on Perdue herself:
Called the Mississippi governor today and apologized for my remarks. Offered to send him some Bojangles Bo-Berry biscuits to make amends.

— Bev Perdue (@GovBevPerdue) May 14, 2012
In 2011, as Mississippi voters went to the polls to elect a new governor and Republicans took the state House for the first time since Reconstruction – those same voters resoundingly defeated a ballot measure that would have defined personhood to begin at conception (by 58 to 42 percent).
The prospect of the measure's passage provoked breathless hand-wringing among progressive pundits before the vote.
The Washington Post's Ezra Klein wrote: "If the Mississippi ballot passes — and this poll suggests it very well could — it will be an unprecedented success for the more aggressive wing of the anti-abortion movement."
It turns out that Mississippi's voters were actually a little more thoughtful than Perdue gave them credit for in her crude reference to the Gulf Coast state.
That Democratic National Convention in Charlotte is looking like a better idea every day, huh?
Editor's note: This post has been edited since its original posting – Jon Nicosia
h/t Huffington Post
Have a tip we should know? tips@mediaite.com