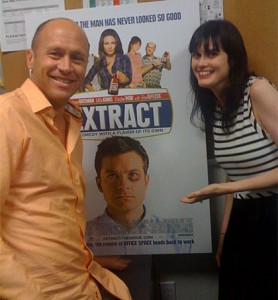 Who: Mike Judge with Whitney Matheson
What: Apple's Meet The Filmmaker series
Where: Apple Retail Store – SoHo
When September 2, 2009
Thumbs: Up
Mike Judge hears voices everywhere.
He cites the origin of one of his character's voices to a former colleague's nervous laugh. And Boomhauer from "King of the Hill" stemmed from a hostile voicemail he received during his "Beavis and Butt-head" years. However he says that Beavis and Butt-Head are not based on anyone in particular.
It's Judge's sharp ear and awareness that brings him success as both a filmmaker and, separately, an animator. Whitney Matheson said that in every one of Judge's films she's found at least one character that resembled someone she knows. His attention to detail, though, doesn't stop at the characters he sketches. Fans of "King of the Hill" will confirm Judge's sensibility and affinity for his Southern roots.
Similarly, the roots of Office Space come from real experiences that Judge had at different jobs through his adolescence and post-collegiate years. While talking about past bosses he's had, Judge showed the convergence of his many sides: the man, the animator and the director. He naturally, and from what we could tell accurately, performed voices of the characters in his stories. Getting the sound right seems like it's of the utmost importance to Judge.
He said that he was first drawn to suburban settings when watching Spike Lee's Do The Right Thing – he thought "someone should do that for the suburbs." As for influences of his comedic stylings, Judge mentioned Woody Allen, iconic Inspector Clouseau, and Terry Gilliam (Monty Python) as providing inspiration. Since Judge didn't know anyone in Hollywood to help him break in – and admits he's not great at pitch meetings – he's relied on library books to educate him as a way to level the playing field.
This self-made animator will, as of next week, be without a sitcom on television for the first time since 1992. He says he isn't ready to close the door on any projects, characters or other opportunities. Just when he thinks it's time to retire, he reveals, he always gets pulled back in.
What They Said
"I think CG animation is in its infancy in terms of what they can do with it."
– Mike Judge is impressed with what animators and filmmakers today have at their disposal, little of which was available when he began his animation career in the early 90s
"We can take a moment to chat about the greatness of Ben Affleck."
– Whitney Matheson has erased Gigli from her memory
"Believe me, FOX has tried dozens of shows just as edgy and controversial that have failed."
– Mike Judge says that the controversy that "Beavis and Butthead" brought on didn't drive the ratings and show's success
"To play really dumb you have to be smart in a way."
– Mike Judge offers up the best explanation we've heard to explain why Kal Penn can serve in President Obama's administration

"I'll probably be one of those guys like William Shatner, always on TV."
– Mike Judge, talking about his future after "King of the Hill" ends its 13-year run, plans to perform poetry on The Tonight Show
What We Thought
Since the panel took place at an Apple store, we were happy to see clips air without any sort of technical difficulties. Typically, we've found, this endeavor comes with a set of problems that leaves the staff scrambling and the panel caught off-guard and embarrassed. Crisis averted.
We were mostly impressed with how Matheson orchestrated the conversation, using Extract to leap to moviemaking and then to the subjects of animation and television. Still, she could have deviated somewhat from her prepared questions and made the talk more of a casual conversation. It felt at times too much like a Q&A with a reporter.
We particularly enjoyed Judge's candor with young filmmakers who were on hand to get advice about how to catch their big break. Judge's suggestion – work hard and have incredible effort until someone rewards it – felt sincere and true to his story.
PANEL RULES!
Some audience behavior seems to repeat itself panel after panel. We'll be updating a running list of "PANEL RULES!" that will help ensure that you are not the dweeb of the Panel Nerds.
Panel Nerds don't like…Intel Processers
Aspiring filmmakers: Your question is going to bring a brief response. Judge isn't going to counsel you to help explain the benefits and drawbacks to exploring different career pursuits. Too many questions at this panel revolved around asking Judge about how the processes for live-action and animation projects differ. As Judge said "If you build it…" Go out and make it happen. You'll see for yourself.

Photo courtesy of Whitney Matheson.
Panel Nerds Etan Bednarsh and Danny Groner are New York-based writers and avid panel-goers. Want them at your panel? Email them here: PanelNerds@mediaite.com
Have a tip we should know? tips@mediaite.com