Wait, Now Pro-Trump Pundits Suddenly Believe the 'Fake News' New York Times on Rosenstein?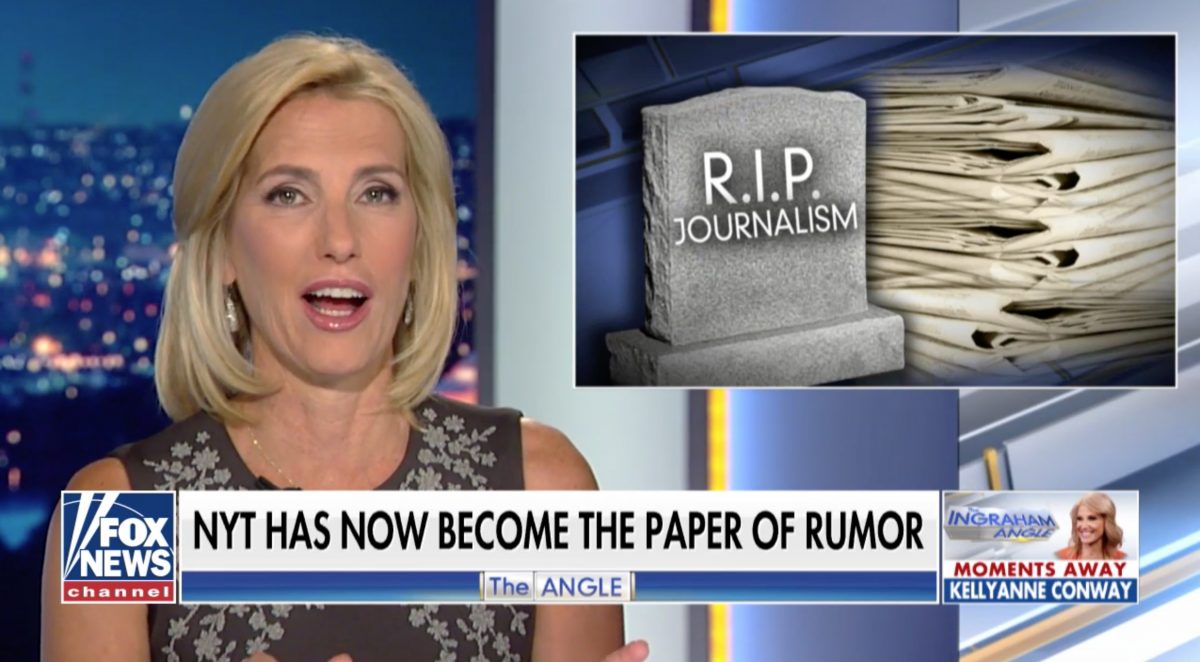 Well well well, here we are again. The New York Times has published a story that confirms Trump supporters' worst suspicions of Rod Rosenstein.
Now, if we are to take the New York Times' word for it, Rosenstein suggested during conversations last year, after the chaotic firing of former FBI Director James Comey, that he wear a wire to record his conversations with Trump. The deputy attorney general also suggested, per the Times, that members of Trump's cabinet invoke the 25th Amendment to remove him from office. The Washington Post backed up the Times with their own report.
Fantastic, the Trump supporter thinks. We've been saying this all along: Rod Rosenstein is corrupt, he's an archetype of the Deep State, seeking to undermine our president from within the Justice Department. I was watching Jeanine Pirro the other day, and she called for Rosenstein's impeachment. Sweet vindication.
No time to waste. Laura Ingraham took to Twitter for a call to action:
Rod Rosenstein must be fired today. @realDonaldTrump

— Laura Ingraham (@IngrahamAngle) September 21, 2018
Jeanine Pirro followed suit with her trademark nuance:
Rod rosenstein shld have been fired long ago for being part of the 'resistance' and not providing documents to congress in order to save his corrupt pals. NOW HE MUST BE FIRED.

— Jeanine Pirro (@JudgeJeanine) September 21, 2018
Gregg Jarrett, Fox News legal analyst and author of The Russia Hoax: The Illicit Scheme to Clear Hillary Clinton and Frame Donald Trump, agreed:
Driven by vengeance, Rosenstein sought to secretly record the President. He must be fired immediately! Since a clearly biased Rosenstein has been in charge of the Mueller investigation, it must be terminated. This illegitimate probe has been tainted by corruption from the start.

— Gregg Jarrett (@GreggJarrett) September 21, 2018
We'll have to wait until 7 p.m. to catch Lou Dobbs' take, but safe to say he won't be suggesting Rosenstein get a promotion.
There's a problem with all this rhetoric, however. Rosenstein is an enemy of MAGA, sure. But so is the New York Times! Famously so! Let's take a moment to recall what these pro-Trump pundits have said about the Gray Lady.
Last month, Pirro called the Times a "socialist newspaper."
"There is no objective journalism anymore," she lamented.
Ingraham, meanwhile, earlier this month railed against the anonymous op-ed published in the Times by a Trump official.
"This is what it's come to," she said on her Fox News show. "The once revered New York Times, the paper of record, has now become the paper of rumor."
"RIP JOURNALISM," Ingraham's graphic blared.
Trump has yet to tweet about the report, published by an outlet he routinely calls "failing" and "fake news." This post will be updated as more opportunists weigh in to selectively applaud the Times for its reporting…
UPDATE –– 9:55 am ET: Ingraham's tweets have now been taken down.
[image via screengrab]
This is an opinion piece. The views expressed in this article are those of just the author.
Aidan McLaughlin - Editor in Chief