Weinstein vs. Trump Coverage Reveals NBC News' Shifting Journalistic Standards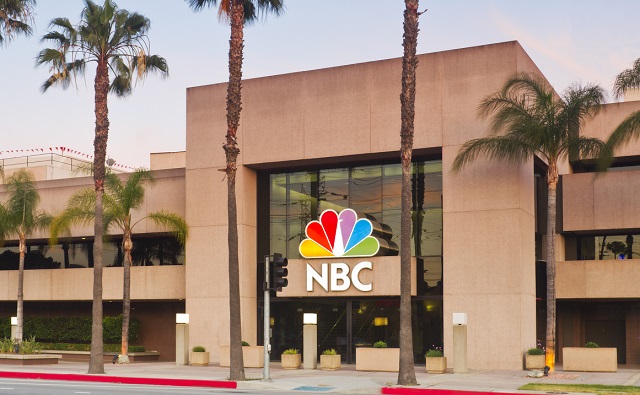 There are multiple reports covering the decision made by NBC News to not run the Harvey Weinstein story that their employee Ronan Farrow had been investigating for nearly a year. According to Salon, Farrow had accumulated quite the mountain of evidence to support his reporting by the middle of this year when NBC News took the extraordinary step of having executives of the corporate parent company NBCUniversal have the final say on whether the story would be broadcast or not:
By July, Farrow and NBC News Investigative Producer Rich McHugh were ordered to take an unusual step before running their story — make sure that it would receive approval from NBC News Chairman Andy Lack after being reviewed by Steve Burke, executive vice president of Comcast and president and CEO of NBCUniversal. This was an incredibly unusual request given NBC's normal protocol.

Still, Farrow steadily accumulated evidence of Weinstein's allegedly predatory behavior. In January, he obtained an on-the-record interview with actress Rose McGowan, discussing her accusations against Weinstein. In March, Farrow had obtained secretly recorded audio footage of Weinstein confessing to having sexually assaulted model Ambra Battilana Gutierrez. In July, Farrow had also scored on-camera interviews with accusers and interviews with former Miramax and Weinstein Co. executives. Finally, as of August, Farrow had filmed, out of his own pocket, an anonymous woman who discussed on camera how she had been raped by Weinstein.
Give the commingled interests of NBCUniversal's film and television properties and the talent and product under the control of the Weinstein Company, it certainly appears that newsworthiness and sound journalistic principles may not have been the reason that NBC News decided to spike the report.
Let's take NBC News President Noah Oppenheim at his word. He said of Farrow's story  "as an organization, we didn't feel that we had all the elements that we needed to air it."
Interesting. Their reporter had multiple women who were willing to put their names on their allegations and not hide in the cloak of anonymity and they still didn't think they had enough to run the story against a movie producer and yet how many stories has NBC News run with about President Donald Trump with nothing more then anonymous sources?
Just this week, the NBC news division made waves with a story alleging that the President requested a tenfold increase in America's nuclear arsenal and no one with direct knowledge of that allegation is willing to do what the women who were accusing Harvey Weinstein we're willing to do, namely put their names to the charge. The President, the Secretary of State and the Secretary of Defense have all come forward to deny the allegation but NBC News' anonymous sources say otherwise so NBC News stands by their report.
If the women accusing Weinstein of rape in Farrow's report had remained anonymous would it have been more newsworthy for NBC News? That doesn't seem to make sense.
Is NBC News more concerned about broadcasting a false allegation against a movie producer then they are of broadcasting an allegation against the President of the United States?
Sure, Weinstein denied the allegation and threatened to sue and one supposes that the worst case scenario for NBC News would be that the story fell apart and they would face a lawsuit. But what is the worst case scenario if they got it wrong about the President and the nuclear arsenal? What are the ramifications for our country and for that matter the world if this report is false?
But we don't even have to speculate on these two stories with these two subjects in a scenario that is arguably an apples-to-oranges comparison. How about the now-infamous Access Hollywood tape of then-candidate Donald Trump?
That was NBC News's story as well. They had audio in their possession of private citizen Donald Trump captured at the time that he was a television star and private businessman (and employee of NBCUniversal). He says on the tape to Billy Bush that he often gropes women without their permission. NBC News ran with that story.
Ronan Farrow had audio tape obtained by the New York Police Department of Harvey Weinstein admitting to his victim that he had groped her without her permission and NBC News spiked the story.
In the case of the Access Hollywood tape Trump has written off the dialogue as "locker room talk" and said he was being obnoxious with another guy, making false claims just for effect. You may believe, that you may not, but the conversation with Bush is certainly different than hearing a man admit his crime directly to his victim.
So what exactly should we take from all of this with regard to NBC News's journalistic standards and editorial guidelines?
It's fair at this point to reach one of two conclusions:
Either their standards change depending on who the target of their story is and, in their mind, the president of the United States is is not nearly as intimidating as a Hollywood movie producer
Or, there is an inherent political bias in the decision-making process at NBC News and a rich and well-connected Democrat donor deserves every possible benefit of the doubt compared to a rich and well-connected Republican candidate or politician.
Either way, doesn't NBC News have a little bit more explaining to do?
This is an opinion piece. The views expressed in this article are those of just the author.