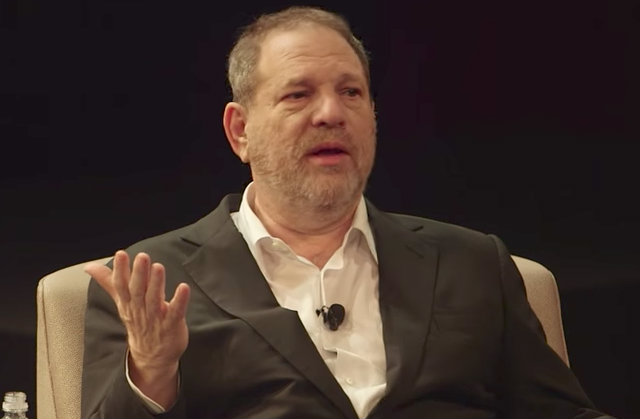 Over the past two weeks, we've learned the disgusting truth about Harvey Weinstein. A repeat harasser and alleged rapist, his sick behavior ranges from masturbating into potted plants to asking women to watch him shower. Gross on so many levels.
On Friday night, late night comedian James Corden emceed the amfAR Gala in Los Angeles and he cracked a few jokes at Weinstein's expense.
"It's a beautiful night here in LA. It's so beautiful, Harvey Weinstein has already asked tonight up to his hotel to give him a massage," Corden quipped.
He made another joke about how Weinstein wanted to come to the gala, but he'd "settle with the potted plant that's closest."
While the audience had a mixed reaction of laughs and groans, actress and Weinstein accuser Rose McGowan was not having it.
YOU MOTHERFUCKING PIGLET https://t.co/UU9LitO9zJ

— rose mcgowan (@rosemcgowan) October 15, 2017
1) James Corden is a close friend of HW's

— rose mcgowan (@rosemcgowan) October 15, 2017
2) Hearing the audience's vile roars & laughs show EXACTLY what kind of HOLLYWOOD you really are. https://t.co/HBqNxnpr7N

— rose mcgowan (@rosemcgowan) October 15, 2017
3) @CBS DONATE TO @ELAWC OR YOU TOO SUPPORT RAPE CULTURE #fuckjamescorden

— rose mcgowan (@rosemcgowan) October 15, 2017
The next day, Corden issued an apology on Twitter.
To be clear, sexual assault is no laughing matter. I was not trying to make light of Harvey's inexcusable behavior, (1/2)

— James Corden (@JKCorden) October 15, 2017
but to shame him, the abuser, not his victims. I am truly sorry for anyone offended, that was never my intention. (2/2)

— James Corden (@JKCorden) October 15, 2017
And on Sunday night, NBC sportscaster Al Michaels mocked the New York Giants by saying they're having a "worse week than Harvey Weinstein." He too apologized later on in the broadcast.
Anyone can understand the outrage, especially from Rose McGowan who has been one of the bravest and most outspoken, but I don't understand what exactly is acceptable humor and what isn't in regard to Weinstein.
Such jokes were perfectly acceptable over the years, back when Weinstein's behavior was apparently normalized. In 2013, Seth MacFarlane jokingly congratulated the five women nominated for Best Supporting Actress because they "no longer have to pretend to be attracted to Harvey Weinstein." 30 Rock made a joke about his predatory ambitions. Since the scandal broke, several late night comedians like John Oliver and Stephen Colbert mocked Weinstein. And so far, no one is calling for their heads.
What really bothered me about Corden's apology was that he simply stated the obvious and what goes without saying. Sexual assault is no laughing matter. He was trying to shame Weinstein and not the victims.
Last week, Full Frontal host Samantha Bee referred to Weinstein as "white Cosby," should all of Bill Cosby's victims be outraged at her? And why did it become OK to joke about Bill Cosby? Or even OJ Simpson?
This predicament as to whether we should joke about Harvey Weinstein reminds me of remarks comedy legend Mel Brooks has made over the years about Adolf Hitler, a frequent target of his. In interviews, Brooks would express how he uses comedy as "revenge" against Hitler. The dictator may have killed 6 million Jews, but through comedy, Brooks can "cut him down to size" and he specifically clarifies that his humor is solely focused on him and not on his victims. Holocaust survivors never made an effort to silence Brooks for making jokes at the expense of Hitler.
What Weinstein did was horrific, and there is also so much about this scandal to roast. Between Hollywood's exposed complicity and hypocrisy, Lisa Bloom's tarnished credibility, Fox News's lack of self-awareness, Weinstein's seeming defenders like Oliver Stone, Donna Karan, and Woody Allen, and of course Weinstein himself, there is plenty of mockery to go around as countless people come off as pathetic.
If we can't joke about Weinstein now, then when can we? At next year's Oscars, he'll clearly be the elephant *not* in the room as the upcoming ceremony will be the first one in roughly three decades that he'll miss. How on earth can he not be mentioned?
Weinstein deserves to be shamed, mocked, and ridiculed. Only time will tell if he'll end up in a prison cell, but it's certain he already has a hotel room reserved in Hell. In the meantime, can we please use humor to marginalize and ostracize him? To say we can't only gives him more power.
I'm sure his victims would love nothing more than to punch Weinstein in the face. Until that happens, perhaps they can accept a punchline.
This is an opinion piece. The views expressed in this article are those of just the author.