'Donald Trump Talks Like a Woman': Politico Publishes Article About Trump's 'Unusually Feminine Style'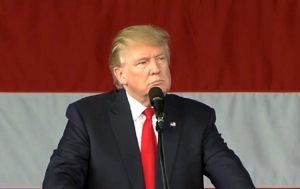 In a piece by linguist and author Julie Sedivy published in Politico Magazine, Republican presidential nominee Donald Trump was described as speaking like a woman and how this may help explain why he's done as well as he has during the race.
After noting that Trump's speaking style is more feminine than any presidential candidate since 2004, Sedivy highlights how this fact might be why the real estate mogul is able to connect with so many voters despite saying "mean-spirited" things about minorities and women.
More than just a comical curiosity, this fact about Trump's mode of communication might help explain how a candidate who has been so extensively rebuked for his mean-spirited attacks on immigrants, women, the disabled and even prisoners of war has managed to attract support from millions of voters who adore the way he says openly what they feel. To some, Trump's ascent is evidence that society still prizes the masculine over the feminine, but what's happening is more complex, and Trump's style has qualities that go beyond mere blustery aggression. Research has shown that the more feminine a speaker's style, the more likable and trustworthy he seems. For Trump, who has been derided for his multiple contradictions and outright lies, that advantage might well have persuaded his supporters to listen to him and not the chorus of media fact checkers.
A chart from Jennifer Jones at University of California – Irvine was included in the article to show how recent candidates ranked in terms of masculine and feminine speaking styles.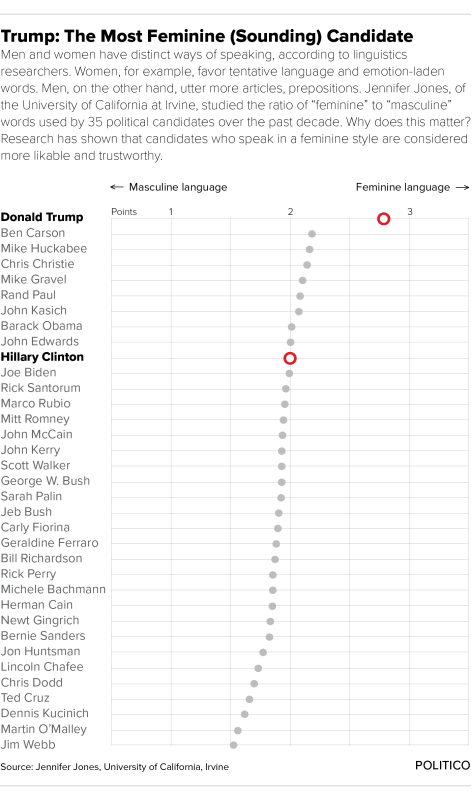 Comparing Trump with his opponent Hillary Clinton, Sedivy pointed out that at the three debates Clinton relied on more masculine words and phrases.
Trump's unusually feminine style has been on display during all three presidential debates. Here's how he talked about his economic plans during the first debate: "My tax cut is the biggest since Ronald Reagan I'm very proud of it. It will create tremendous numbers of new jobs. But regulations, you are going to regulate these businesses out of existence. When I go around—Lester, I tell you this, I've been all over. And when I go around, despite the tax thing, the thing that business—as in people—like the most is the fact that I'm cutting regulation…. I'm really calling for major jobs because the wealthy are going to create tremendous jobs. They're going to expand their companies. They're going to do a tremendous job."

To which Hillary Clinton responded in the more familiar—and more masculine—style that we're used to hearing from politicians: "I don't think top-down works in America. I think building the middle class, investing in the middle class, making college debt-free so more young people can get their education, helping people refinance their debt at a lower rate—those are the kinds of things that will really boost the economy. Broad-based, inclusive growth is what we need in America, not more advantages for the people at the very top."
There was at least one critic of this piece.
We have a new winner for "worst Trump take" pic.twitter.com/vJnOT7K3fM

— Judd Legum (@JuddLegum) October 26, 2016
So, how will the GOP candidate respond the this take that he's the most feminine sounding presidential candidate of the past twelve years?
[image via screengrab]
–
Follow Justin Baragona on Twitter: @justinbaragona
Have a tip we should know? [email protected]