Reince Priebus Hints President Trump Could Do Away With White House Press Briefings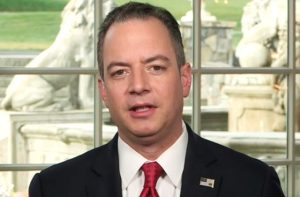 Incoming White House chief of staff Reince Priebus seemingly suggested during an interview with Hugh Hewitt that president elect Donald Trump might do away with or radically change the White House press briefing and other traditional aspects of the press corps.
Priebus seemed receptive to a suggestion from Hewitt that Trump should get rid of the "boring" Saturday morning radio address and do a round of radio interviews instead. "I think that many things have to change, and I think that it's important that we look at all of those traditions that are great, but quite frankly, as you know, don't really make news," he said.
The RNC chairman said they were even "looking at things like the daily White House briefing from the press secretary. I mean, there's a lot of different ways that things can be done, and I can assure you we're looking at that."
Hewitt noted that Politico's Glenn Thursh had told him on the show that the press corps was worried about changes to the briefing format. "There is worry in the White House Press Corps that they're going to do away with the traditional bullpen, the upstairs, the downstairs… what are the plans for the press corps and that traditional approach?"
"It just so happens that we're actually talking about those things right now," Priebus responded vaguely. "And what the new tradition, I guess you could say, should be in the Trump White House." He noted in particular that the reseved seating at briefings started under the Obama adminsitration, and in earlier briefings people sat where they wanted.
"The point of all of this conversation is that the traditions, while some of them are great, I think it's time to revisit a lot of these things that have been done in the White House," Priebus concluded.
Listen above, via The Hugh Hewitt Show.
[Image via screengrab]
—
>>Follow Alex Griswold (@HashtagGriswold) on Twitter
Have a tip we should know? tips@mediaite.com