Tony Perkins Warns That Secretary of State Pick Could Be Left's Best 'Ally' in Cabinet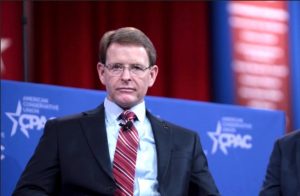 Did you think that Rex Tillerson's ties to Russia were the biggest controversy that could affect his confirmation as Secretary of State? Tony Perkins and other conservatives have a different issue with the Exxon Mobil CEO.
In his "Washington Update," the President of the ultra-conservative Family Research Council wrote this:
The Left, which doesn't usually need a reason to oppose Trump's choices, won't find many here, since the ExxonMobil executive may be the greatest ally liberals have in the Cabinet for their abortion and LGBT agendas. That should be particularly alarming to conservatives, who've spent the last eight years watching the State Department lead the global parade for the slaughter of innocent unborn children and the intimidation of nations with natural views on marriage and sexuality … Now, after two terms of exporting radical social policy, Americans could finally see the light at the end of the Obama administration tunnel. To hear that Donald Trump may be appointing a man who not only led the charge to open the Boy Scouts to gay troop leaders but whose company directly gives to Planned Parenthood is upsetting at best.
Apparently, the Family Research Council has opposed some of Tillerson's endeavors in the past. Perkins even wrote that they know him "all too well."
Tillerson's willingness to play ball with LGBT organizations and Planned Parenthood adds an interesting new wrinkle to his status as an appointee to the position of Secretary of State. Who will oppose him more? Democrats? Republicans? People subscribed to the FRC "Washington Update"?
[image: Gage Skidmore]
Have a tip we should know? tips@mediaite.com