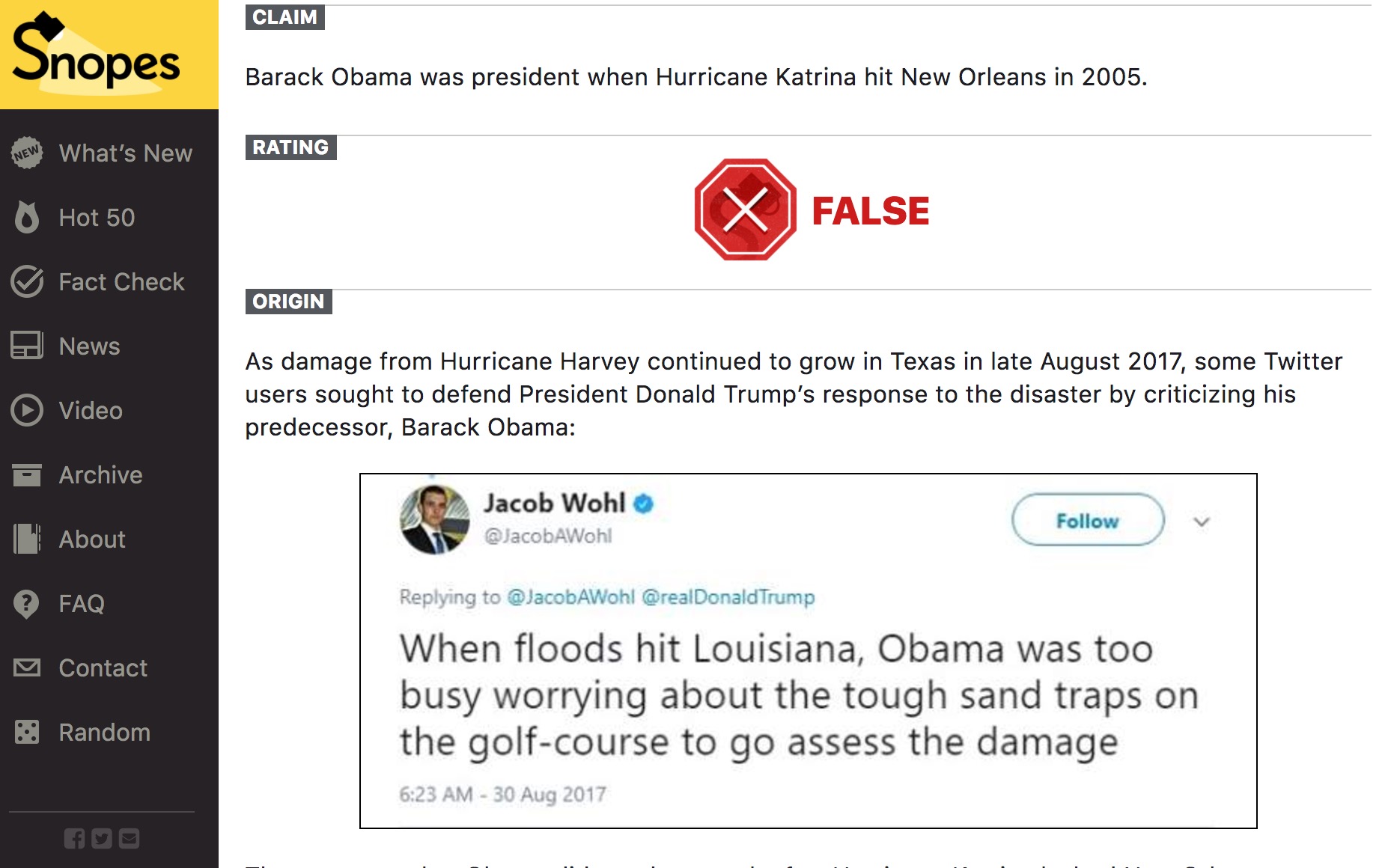 The fact-checking website Snopes seems to have forgotten that the state of Louisiana has experienced other flooding incidents besides Hurricane Katrina.
In a botched myth-busting endeavor, Snopes attempted to clear-up the internet claim that Barack Obama was president when Hurricane Katrina hit New Orleans. Obviously, this claim is ludicrous, as Obama did not become president until 2009 and the hurricane took place in 2005. However, Snopes managed to screw-up this simple fact-check by using the example of a Trump-supporter recalling Obama's response to the 2016 Louisiana floods, not Katrina, and claiming the man was falsely accusing Obama of golfing while disaster struck.
Armed with either Google or one year's worth of memories, one can look back to the catastrophic flooding that happened last year in Louisiana, which took the lives of 13 people and damaged 60,000 homes. And while Obama kept updated on the disaster, he declined to cut short his vacation in Martha's Vineyard — where he was playing a few rounds of golf — to visit Louisiana, much to the outrage of conservative media.
The 2016 event is clearly what the Trump-supporter Snopes fact-checked is referencing:
When floods hit Louisiana, Obama was too busy worrying about the tough sand traps on the golf-course to go assess the damage

— Jacob Wohl (@JacobAWohl) August 30, 2017
While there are dozens of examples of random Twitter users promoting the lie that Obama was president during Katrina, it is unclear how many of those tweets were jokes, bots or genuine people. What is clear is Snopes' misrepresentation of the claim the Trump-supporter in question made.
The Twitter user in question, Jacob Wohl, told Mediaite he was "baffled" by Snopes' inability to fact-check their own work. "I am baffled by the ignorance that these so-called fact-checkers displayed. Perhaps if they traveled outside of their bubble, they'd have heard about the devastating floods that hit Louisiana last year," said Wohl.
By Wednesday afternoon, after Mediaite pointed out this mistake to Snopes, the site revised their article to remove Wohl's tweet and replace it. "We generally use tweets or comments as examples to show what people are talking about in order to show why we are debunking the issue we're debunking. In this case, his was the highest-profile example of the narrative that we found at that time… We will update the language in our page to clarify that Wohl says that he was talking about 2016, not 2005," said Snopes managing editor Brooke Binkowski.
Snopes has often been criticized for their fact-checking, as many conservatives believe both their content and editorial selection are politically motivated or slanted against those with right-of-center views. The site now works with the social media giant Facebook to vet posts that include possible fake news — making the accuracy of their fact-checks imperative.
[image via screengrab]
Note – this article has been edited since first publishing to include the responses of Wohl and Snopes, as well as a date correction.
Have a tip we should know? tips@mediaite.com