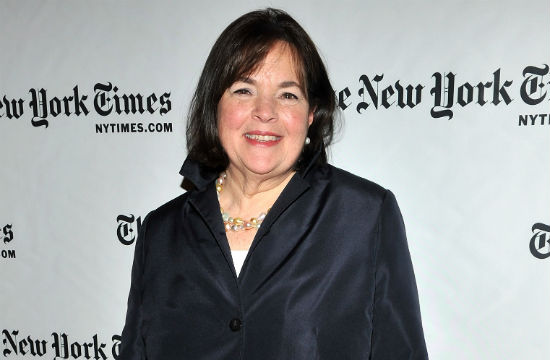 We've always instinctively thought that Ina Garten and Ruth Reichl might be kindred spirits. Then, Ina blogged about her Sunday routine for the New York Times and our suspicions were confirmed. The Barefoot Contessa shares the same sumptuous appreciation for food, nature, and tiny indulgences as the inspiration behind the feminine half of Ruth Bourdain, and here are five hilariously predictable ways in which she whiles away her Sunday afternoon:
1. Oatmeal for breakfast:
"Sunday is my favorite day of the week, totally. I get up around 7:30, get the house together, and then I make breakfast: oatmeal and coffee…I do everything at the kitchen table: it has a metal base and concrete top, and it's in an alcove that faces south and overlooks the garden."
In order for us to enjoy oatmeal, we have to stir in enough pumpkin puree and cinnamon to make it taste like pie. Then, and only then, do we curl up with our oatmeal and our coffee and sit in front of our kitchen window which faces south, into an airshaft, and overlooks a nest of pigeons which our next door neighbor lady feeds.
2. Blogging in the barn:
"After breakfast, I wander over to the barn; not an actual barn, but a barnlike structure I built six years ago after we bought the property next door. It has a 2,000-square-foot kitchen, which is great, because until then I did all my filming and cooking in the house; it's nice to have a separate space for work."
We totally feel you, Ina. We blog in our barn-like structures to get out of our homes, too. And by "barn-like structures," we mean dirty delis with free WiFi to which we escape because they're air-conditioned. But, yeah! Same page!
3. Gardening in her quarter-acre kitchen garden:
"In the late afternoon, I'll plant whatever we bought that day. Last week it was zucchini, dahlias in a beautiful plum color and French melons. I just like to get my hands dirty on Sundays."
In the late afternoon, we plant our asses on the couch. We like to become one with potatoes on Sundays.
4. Massages:
"Every Sunday at 6 p.m. for the last 27 years I've had a massage."
…We can't even.
5. Must-See Sunday TV nights get crazy at the Garten household:
"I watch 60 Minutes and the must-see Sunday TV shows; now it's The Killing, but I'm excited about Aaron Sorkin's new show, The Newsroom. [My husband] Jeffrey watches The Killing with one eye closed; he wakes up at 4, so he's entitled to fall asleep at 9 or 10. I tend to watch until 11."
What. No Girls? Weeds just premiered on Sunday nights again. Not a True Blood fan, Ina? We're shocked.
Have a tip we should know? tips@mediaite.com