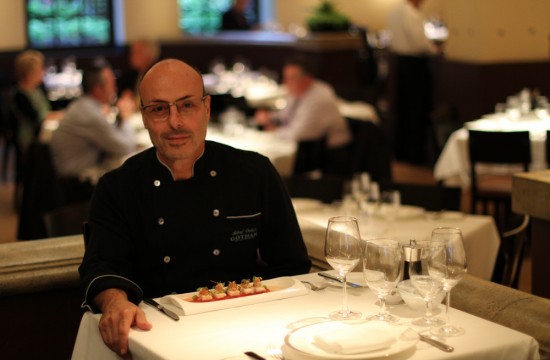 Alfred Portale can safely be called one of the looming giants of the American culinary world (and the reasons why can largely be found in our own interview with the master.) But he's crossed paths with many greats over the years, either as a teacher and mentor (Tom Colicchio, Wylie Dufresne, and Bill Telepan worked in Portale's kitchen at the beginning of their careers), or as a peer.
In an interview with The New Potato, he reminisced about his relationship with Julia Child, and the time he appeared on her television show Cooking With The Masters. Though he'd met her once at a Bloomingdale's (while she was shopping with her gay BFF James Beard), he remembered that the fun didn't stop at the end of the shoot:
It was one of the greatest experiences of my life. Very early on, one of the first cookbooks I had was Mastering the Art of French cooking. I would pour over cookbooks over and over, and at the time I didn't really understand the cuisine, but it was such a huge influence. When we did the show, we filmed it at her home. It was incredible how much energy she had. I remember she wanted to have dinner after the show – so Julia and I were going to meet at 9:00 PM at Gotham. She flew in from Paris (meanwhile she's in her late eighties) and she had a couple glasses of wine and was just so entertaining, fun and brilliant. I was awestruck at how special she was; it was so inspiring.
That's a wonderful anecdote and a testament to his character, both as a chef and as a human being. However…we just can't forgive him for turning down a chance to go on the original, Japanese Iron Chef. "I was actually asked to do the original way back when, in Japan when it first started," he revealed. "I think it's exciting and challenging, but I haven't had much opportunity [to compete on a show.]"
Mr. Portale, do you understand what kind of exciting and challenging show you missed? A show where a Japanese man in a stupidly elaborate cape and feathers breaks bread (or dungeness crabs) with Joel Robuchon? How could you miss this opportunity? We suppose that your astonishing career, and the fact that Julia Child respected you tremendously, makes up for the lack of Chairman Kaga encounters in your life.
Have a tip we should know? tips@mediaite.com