Andrew Zimmern: Yay Stanley Tucci Playing Me In My Biopic! Boo Atlantic City Food And Wine Festival!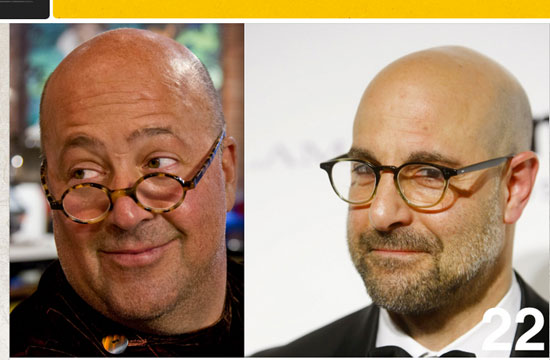 Last weekend, Andrew Zimmern and a bunch of his celebrity friends (Robert Irvine, Buddy Valastro, and Paula Deen get name-dropped) went to the Atlantic City Food And Wine Festival, a festival ostensibly about food and wine. But on his weekly podcast Go Fork Yourself!, Zimmern looked back on that weekend with befuddlement: Apart from five or six celebrity chefs, he didn't see signs of outside restaurants or industry figures. "It was a food and wine weekend where they didn't seem to care about food and wine," he mused:
 Because this thing is funded so much by the casino hotels, all their big casino hotel restaurants and food people are out front and center, and it just…[long pause] I'm shocked. They should have folks like us do demos. And have food provided by great chefs from around the world. If you're going to have an event focused around food and wine, put the food and wine front and center.
(Zimmern was quick to not that this festival was not actually held by Food and Wine Magazine, because Dana Cowin would sooner punch a mob boss in the face before serving bad food at a festival.)
Later, he discussed the spate of Hollywood movies based on the lives of celebrity chefs (Jamie Oliver and Gabrielle Hamilton, to be specific), and began musing about who would play certain celebrity chefs in their own biopics — Ming Tsai played by Eddie Huang ("in his first movie role!"), Emeril Lagasse played by Ryan Reynolds, or even Marcus Samuelsson played by Steve Buscemi. (Welcome to the club, Zimmern!)
As for himself, there's only one choice: "You know, I hear this a lot: Stanley Tucci. I look like a chubby, younger Bruce Willis. Or Fred Flintstone."
Have a tip we should know? [email protected]