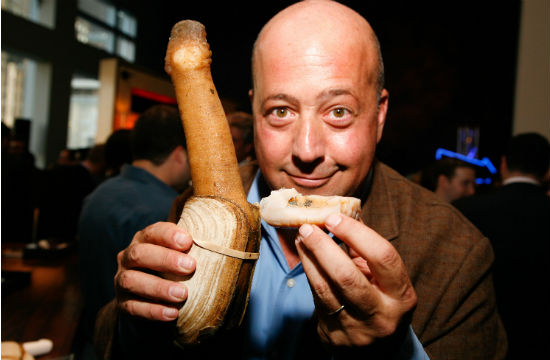 "So, why do you think Black Friday is racist?" Thus begins the Thanksgiving installment of Go Fork Yourself.
Andrew Zimmern finds that calling it "Black Friday" marginalizes a whole group of people by associating them with an unpleasant experience, which is why he's issuing a call to rename it "Bi-curious Friday, where everyone can be as bi-curious as they want while spending money." That way it's inclusive, see? Andrew Zimmern has all the answers.
Of course, Andrew and his trusty sidekick Molly Mogren also discuss their Thanksgiving plans, traditions, and dishes. Molly, for example, skipped Thanksgiving at Grandma Mogren's house the past two years in favor of spending it with her significant other Josh and his family, which is completely hilarious (no, seriously, she cracks up laughing), because Grandma Mogren died this year! …Yeah, Go Fork Yourself gets dark sometimes.
Here's Zimm's cranky take on the holiday:
"Thanksgiving is the only time of year where people who are shitty cooks, who have no business cooking, who never cook, who can't make a fried egg right, who couldn't time a cup of coffee and a piece of toast to come out hot at the same time, those people decide they're going to have 20 people at their house and they're going to do 15 courses. It is the only time of year that happens."
Fair enough. Tips to avoid disaster? Andrew advises buying extra burners. He prefers species specific heritage birds, and he sits his turkeys upright in a roasting pan of stock on the stove top for a spell to begin the cooking process, then pops them in the oven when the dark meat has already begun to cook for equally tender parts. He's also a fan of the Jacques Pepin steaming method.
"Deep fried turkey is an abomination," he warns. "It's dangerous. It tastes like crap."
If you are going to deep fry your turkey, he says, break it down, brine it, dry it thoroughly, dredge in flour, and then deep fry.
You can check out the whole podcast here.
Have a tip we should know? tips@mediaite.com