Anthony Bourdain Claimed to Be the Savior of CNN, While Parts Unknown Premiere Numbers Drop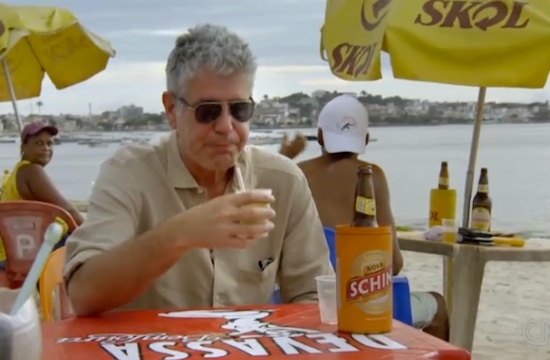 Everyone is ready to claim Anthony Bourdain as the saving grace for CNN (because uh, who watches anything besides FOX News now and that is a different story of how we fell about that), but no one really wants to admit that his show is already slipping in numbers from last year — ouch.
In a new interview with Hollywood Reporter, Bourdain and CNN president Jeff Zucker ooze out the love and praise to each other for making Parts Unknown a hit for the network. Bourdain on Zucker:
"He stepped up and embraced the project, saying, 'This is exactly what I'm all about,' even though it was a risky thing to be seen with us back then — a celebrity chef for CNN?! And we presented him with some very difficult material. That Japan show we did? I mean, [we discussed] tentacle porn, for f—'s sake!"
Zucker on Bourdain:
"…Some people initially were skeptical of having this TV food personality on the air, but he's shown everyone that you can learn as much from an episode of Parts Unknown as you can from any of our field reports. And that's an incredible thing."
In short, "Bourdain clearly has found a rare pocket in the pop culture ether, neither traditional food-and-travel TV nor social-issue TV but something distinct and substantive that, perhaps most importantly, viewers are tuning in for." So while Bourdain has the creative freedom to do what he wants to be "himself," so say his producers, CNN still hopes that Parts Unknown will bring in the numbers. But new reports from Deadline show the season premiere was down double digits compared to last year's season premiere. The total of this year's season premiere? 538,000. Last year's season premiere? 681,000. It's an 11 percent decline from last year; in comparison, FOX News' Justice with Judge Jeanine had 791,000 viewers in the same time slot.
So maybe it's just safe to say that no one, no matter how good, will make you watch CNN, period.
[Hollywood Reporter, Deadline]
RELATED: "Anthony Bourdain on Regret, Criticism, and Laziness
Anthony Bourdain Talks Meaning of Foodies in Shanghai Season Premiere of Parts Unknown
The Season Four Lineup of Parts Unknown is Here
Have a tip we should know? tips@mediaite.com