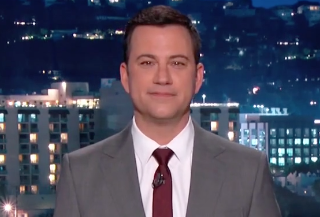 According to McAfee, the late-night host known as Jimmy Kimmel is actually a disease-ridden carrier of many, many viruses and should be handled with caution. When you're searching for him online, that is.
In its latest edition of "The Most Dangerous Celebrities," the computer antivirus company found that nearly 20% of Jimmy Kimmel-related links on the internet contain viruses and other malware, due to the fact that Jimmy Kimmel content is "perfect for downloading and sharing," and designed to go, well, viral.
"This gives hackers an excellent name to associate with their malware and maximize their downloads," McAfee explained in a blog post. And you don't even have to download anything to be at risk for Kimmel: "Merely visiting a dodgy website filled with malicious code is enough to infect most devices."
So how do you protect yourself from Kimmel? A lot of McAfee's suggestions involve buying their products (they are a business, after all), but the three most obvious ones are:
Go to official channels for your laughs. Sure, the latest Jimmy Kimmel video may be hilarious, but heading anywhere other than ABC.com, or well-known video sharing sites such as YouTube, to watch it is a risky proposition. Stick to well-known or official sites to lessen the chance of getting malware.

Avoid free downloads. One of the most efficient methods hackers can employ to get malware on a victim's system is to give material—especially desirable entertainment material—away for free. This is especially true on file-sharing sites.

Be careful of links sent to you on social networks. Hackers will often try to entice you by sending phishing emails or embedding links on social media sites. If you see something that interests you, go to official or well-known video sharing sites and search for it there.
Kimmel's contagiousness beat out other big names like Bruce Springsteen, Britney Spears, Flo Rida, and, randomly, Dutch DJ Armin van Buuren, who came in second place.
[McAfee]
[Image via screenshot/ABC]
—
>> Follow Tina Nguyen (@Tina_Nguyen) on Twitter
Have a tip we should know? tips@mediaite.com