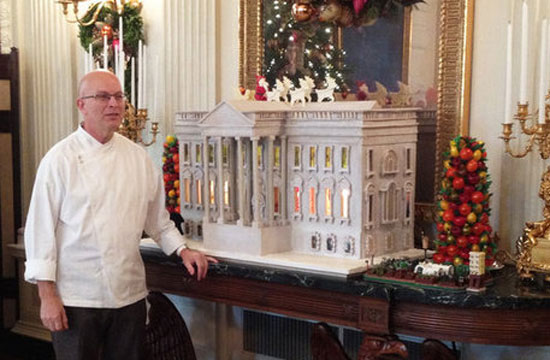 See that ginormous model of the White House, next to Executive Pastry Chef Bill Yosses? That's really a disguised afikoman, the piece of matzoh that is traditionally hidden during the seder and must be found by children during Passover. Why is this Christmas treat now a Jewish bread? Because Yosses wanted it so, that's why.
In an interview about the White House's traditional holiday gingerbread house, Yosses told YumSugar about the process of creating an entirely edible Executive Mansion (in theory), and pointed out how this version looked grayer. Normally, they'd sculpt the exterior out of white chocolate, but this year, Yosses wanted to celebrate the quarry that supplied the White House's stone.
"This is actually made out of bread," he explained. "It is a recipe that we put together with rye flour, buckwheat flour, and whole wheat to make it look like stone. Then we rolled it out and let it dry, and with that we were able to carve and get it into the shape that it is now."
"So it's essentially matzo?" YumSugar asked.
"It is," he responded, "so we might keep it around for the seder."
The Obama Administration has indeed celebrated seder during Passover, and if Yosses can get the 300-lb gingerbread house, complete with furniture and sculptures of Bo the Dog, underneath a couch, that would be highly impressive. (Either that, or Malia and Sasha will have the easiest hunt for the afikoman ever.) Okay, now we're starting to mix up our holidays.
[YumSugar]
Have a tip we should know? tips@mediaite.com