Betting on Top Chef Duels, Episode 5: David Burke Versus Takashi Yagihashi (Updated with Winner)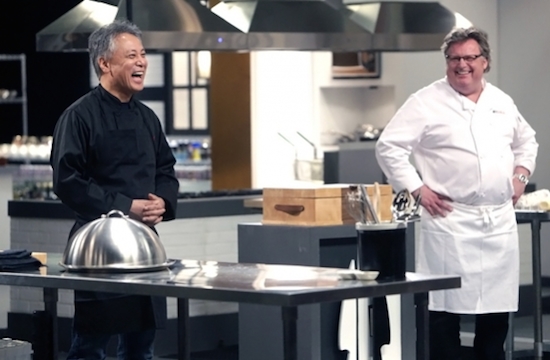 Because there's never enough Top Chef, so says Bravo, we are now privy to the newest of the franchise spin-offs: Top Chef Duels. Let's get the cockfight going and see who wins these battle of the brawn — er, culinary challenges — of the season.
Episode 5: David Burke Versus Takashi Yagihashi

From Bravo:
These Top Chef Masters competitors and long-time friends take the duel to a whole new level. Takashi challenges David with an ingredient for which he is well known, the egg. David reciprocates with a test based on crab that must be prepared three ways. Then for the Duel, guest judge Andrew Zimmern offers up some of the most bizarre ingredients for their meal. Having to cook with unfamiliar products will push these Masters to their culinary limits.
Editor's note: ANDREW ZIMMERN YASSSSSSS.
Accolades Between Chefs: Lots and lots of them. Burke has basically done everything under the sun; most recently, "the David Burke Group was recognized by Restaurant Hospitality magazine as having one of the 'Coolest Multiconcept Companies in the Land,'" according to his bio. Burke was also on season two of Top Chef Masters. Yagihashi was nominated as a James Beard Best Chef: Midwest in 2003, and his restaurant, Takashi, got its third consecutive Michelin star in 2013. He too was on Top Chef Masters, season four.
Number of Predicted Meltdowns Between the Two Competitors: Zero. They're not exactly hotheads in the kitchen.
Will This Make for Good TV: Good for the food geeks, bad for the drama queens. And also ANDREW ZIMMERN, who makes everything more fun and nerd-tastic.
Who Would Win in an Actual Food Fight: We think Burke would have a good throwing arm, but they're so chummy together! It's kind of adorbs.
Who Will Win: This is not an easy match for us to predict: two equally strong competitors, with different skill sets. However, Burke seems poised for challenges that come down to the basics, while Yagihashi has a stronghold in Japanese cuisine. Based on the appearance of Zimmern and his wacky ingredients, we think Yagihashi could have a better chance to take whatever weirdness is thrown at hime and run with it.
*Update: We were correct! Congrats, Yaghihashi! We are now four for five, not too shabby.
Share with us who you think will win this episode — or who would win in an actual food fight.

RELATED: "Betting On Top Chef Duels, Episode 4: CJ Jacobson Versus Stefan Richter (Updated with Winner)
Betting on Top Chef Duels, Episode 3: Mike Isabella Versus Antonia Lofaso (Updated with Winner)
Betting on Top Chef Duels, Episode 2: Shirley Chung Versus Brooke Williamson (Updated with Winner)
Have a tip we should know? tips@mediaite.com