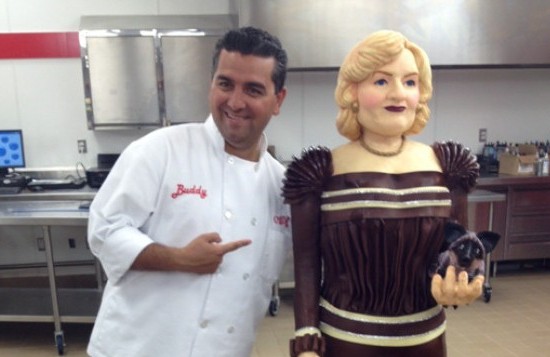 While I watched these guys take the piss out of a notorious bastard last night, a bunch of comedians across town were telling an old woman that she was a whore. Which is okay, it was Betty White. She was the guest of honor at a Friars Club Roast held by a group of other funny old people (Larry King, Abe Vigoda, and Barbara Walters the most famous Olds among them), and backstage was a cake version of her made by Buddy Valastro from Cake Boss.
Huffington Post reports that foist, Buddy built a frame outta PVC pipe.  Then they stacked VANILLA CAKE onnit, with buttercream filling in between. He's sculptin the bawhdy from the cake, gaht Ralphie Boy workin' on the head, and some of the othah sculptahs workin on a silver fohx. Because, ya know!  She's one OLD HAHT MAMA!
(Cue interlude where Buddy's Mom comes in and compares herself to Betty White. "HOW IZIT THAT EVERYONE THINKS SHE'S SEXY? She's what, NINETY? People should NAWHT be harrassin' her. ESPECIALLY YOU, BUDDY."
"Yes, Mawh," Buddy grumbles, and gets back to sculpting Betty White's ears.)
Then he covahed her in mawhdelin' chocolate and sculpted a dress frommit! And when it was done…(air kiss!) WOW.
Thankfully, unlike that imaginary episode of Cake Boss that the law killed, this episode will air later this year, so we can see Betty White pretend to make out with her cake twin and grab her frosting boobs. And though TLC never asked us to say this, the 5th season of Cake Boss premieres on Monday, May 29th at 9 PM EST! I'll be looking forward to it, because I love seeing the multiple applications of modeling chocolate.
Have a tip we should know? tips@mediaite.com