Bobby Flay is the High School Yearbook Editor of the Food World and We Kind of Love It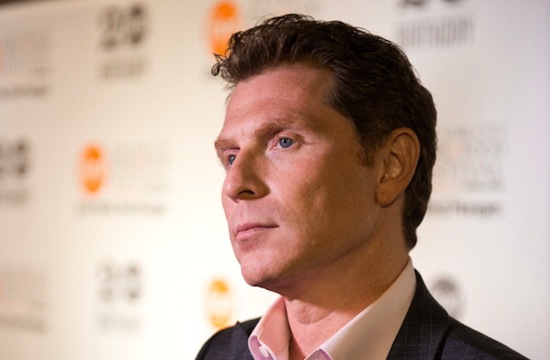 Bobby Flay has literally made himself the yearbook editor of the celebrity chef world, doling out superlatives to all of his chef friends — and it's amazing. But at least he's diplomatic about how much Gordon Ramsay hates him. OMG so much high school drama!
Yahoo quizzed Flay on all of his chef friends, in the spirit of his new competition show on Food Network, and it's kind of amazing. Some of the superlatives Flay handed out to his friends:
Morimoto: "Epic." (We'd have to agree.)
Michael Symon: "Best Friend." (AWWW BFF's AND EVER, GUYZ.)
Alex Guarnaschelli: "Very thoughtful and a really good cook." (Class Sweetheart, obvi.)
Marcus Samuelsson: "Marcus is very laid back. Also, he has fantastic style in his food. For himself and for his food, his style is really cool. Very him. It's very original." (So Coolest Guy in the class, obvi.)
And here's how it went down when the interviewer asked about his noted frenemy (if we can even put it that nicely), Ramsay:
[Interviewer] Is there anyone you want to compete against, but haven't yet?
Gordon Ramsay.
[Interviewer] Have you proposed that, and will it happen?
Yes, [but] he's not interested. If you Google it … and frankly, I like him. He came after me in some magazine article. … I can't remember what it was, and so I called him out. I was like, "Alright. Enough chatter. Let's get in the kitchen." I wanted to do it as a big charity event. He wasn't interested. Let's put it that way.
Let's take this outside after school, fellas.
[Yahoo!]
RELATED:
Breakfast With Bobby Flay: On Creativity, Competition, and Being the Mayor of New York City
Bobby Flay's Mom on From Scratch: 'You're Not a Diva Like the Rest of Them
WATCH: Bobby Flay Defends Restaurant Instagramming
Have a tip we should know? tips@mediaite.com