John Tesar Craps on Bon Appetit's 50 Best New Restaurant List, Gets Nominated Anyway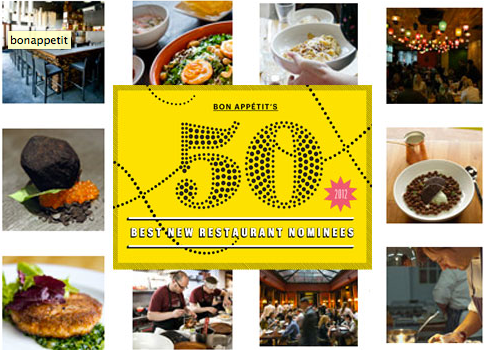 Back in June, we did an interview with John Tesar in which he in which he said this:
"You know, what's his name, Andrew Knowlton's not going to buzz through my restaurant for fifteen minutes and put me on one of those lists of the 50 Best New Restaurants, which to me, is a great accolade, and I would love the attention, but to me it's bullshit."
Retrospectively, that's kinda awkward because he landed square dab in the middle of that pile of critic feces as his restaurant, Spoon, was awarded this very same accolade. Tesar called the whole list, and it's compiler Andrew Knowlton, somewhat bogus, saying:
"Sending some chef out into the world, sending him out onto the road like some rock star for three months so he can write a book one day, and pick a restaurant out of a hat and make it the Best New Restaurant — whether it deserves it or not. It's just not the way to do it."
So, either Spoon earned more buzz than Tesar gives it credit, or the list really is complete BS. Either way, looks like all that praise has really paid off.
The depth of complete crap on the list continues for Tesar, as his apparent arch nemesis Matt McAllister's FT-33 has also been nominated. About McAllister, Tesar said in part two of the interview:
"FT33 was like the biggest thing in Dallas when I got back [from Top Chef Seattle], they were doing modernist. You know, putting something in a squiggly line or putting blossoms on something doesn't make it taste better — it makes it look beautiful. It's new. It's like Eleven Madison Park, it's interesting. And those restaurants do have a lot of depth and history. So Matt just picked up a book and started imitating it, and it was new and fresh for Dallas — it was yummy, it's that generational shift. They don't want to go to these stuffy palaces."
Not only will Tesar be looking for the ultimate recognition he knows he deserves but hasn't gotten, but he's now also pitted against the squiggly-lined blossoms he's spoken so kindly about. Whether or not Tesar believes that Knowlton's 120-day, 26,333-mile, 22-state tour of the country is the right way to pick the Best New Restaurant in America, he got exactly where he said he wouldn't.
Will Spoon beat out FT-33 to make the "Hot 10" list? Will Tesar acknowledge that maybe this list isn't so ridiculous? Or will the Torrisi Restaurant Group's Carbone just take home the crown like everyone probably expects.
See all the nominees here and watch as the drama unfolds when the winners are announced August 14. And on August 15, the list will henceforth be known as "The 10 Restaurant You Absolutely Will No Longer Be Able to Get A Reservation At."
RELATED:
John Tesar Talks Celebrity, Mommy Issues, And The Other Mrs. Bourdain
John Tesar On Top Chef Inspiration, Producer Interference, And How The Show Ruins Careers
Zen And The Art Of The Comeback: John Tesar's Not Crying Anymore
One Chef At One Of Bon Appetit's 50 Best New Restaurants Is Going To Become Famous
Have a tip we should know? tips@mediaite.com