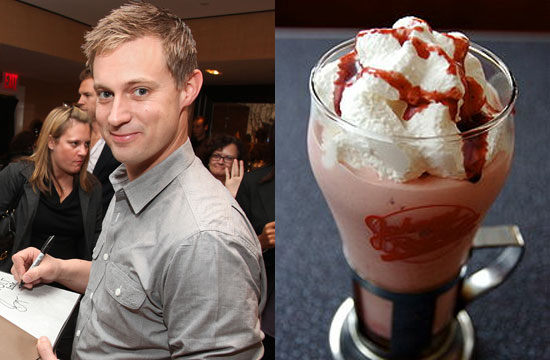 Top Chef runner-up Bryan "The Quiet One" Voltaggio has been quite busy lately, working on three new restaurants while maintaining his flagship VOLT in Frederick, MD. One of those projects is about to open — and it's an old timey-meets-New American diner in the middle of a huge parking lot.
Family Meal, opening at the end of this month in Frederick, is Voltaggio's take on a classic diner experience, but without the sticky vinyl seats and the lame jukebox songs. Instead, it's going to be a mix between "family friendly" and hangover-friendly, with ten beers on tap (the first time Voltaggio has worked in a restaurant with draft beer, he tells Eater DC), tomatoes grown on the premises, and a guy whose sole job it is to make milkshakes. You heard that right. The guy will only make you milkshakes and pour alcohol into them if you so desire. Bryan Voltaggio has his priorities straight.
(Bryan Voltaggio is bringing milkshakes to DC's yard with a straw that goes acroooooooooss the Potomac and you'll come over to Family Meal to DRINK IT UP. Okay, we're done.)
So who are you, mysterious milkshake maker? What kind of dairy secrets did you learn, when the cows whispered their arcane knowledge into your ears? Moreover, is an entire job that consists of making milkshakes a sign of the new economy? And what kind of $40,000-a-year institution does one need to go to to land this kind of job? Reach out to us, man (or woman! Milkshaking is not gender-specific). We want to meet you, because we can't believe you're real.
Have a tip we should know? tips@mediaite.com