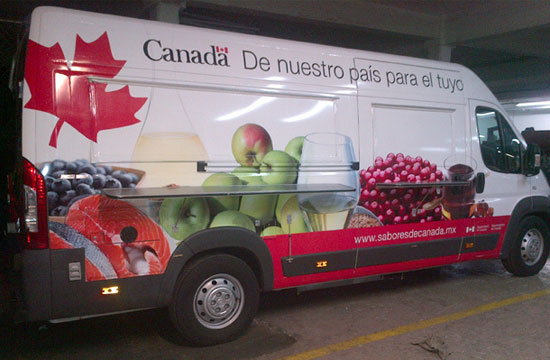 We appreciate how hard Canada tries to do things; truly, we do.  We know that internationally, everyone's all, "O Canada! Why you lookin' so plaid today? Let's put maple syrup on a log and eat it with a woodchuck! What a hearty breakfast." No wonder they have hangups about their prominence in the international food world.
But Canada has a rich culinary tradition, far beyond poutine! Which is why we applaud the Canadian Government's latest initiative to change everyone's mind about Canadian cuisine: sending a food truck to Mexico and serving them poutine.
The National Post describes this brilliant example of culinary diplomacy, currently parked in Mexico City, as follows:
 The new Canada-branded, taxpayer-funded venture, which kicked off its three-week pilot project last week, is serving up a Mexican-ized version of poutine, using Oaxaca cheese instead of curds. Also on the menu are Alberta beef tourtière (beef pie), and maple-glazed Albacore tuna.
If José Andrés once described culinary diplomacy as "sending hidden messages through food," the Canadian government's message is not so much "hidden" as it is "sad and desperate": "What do you not like about me? I can change! Really! Is it the cheese? Do you not like the curds? I can find something else! I can dress sexier! I'll even have a threesome with the Albacore tuna! I'll do anything for you! PLEASE LOVE ME."
But chefs like the famous David McMillan of Joe Beef are not into clingy Canada. "This whole 'Canadian music, Canadian art, Canadian wine' [thing] has to stop," he told the Post. "It's just ridiculous. All the time, it's like everyone's financed by insecurity and the CBC. It's true, it's a joke. We have to stop thinking that way."
He added that the cuisine of the geographically enormous Canada is more regionally-based, anyways, and to unify all of the country's cuisine as "Canadian" would be impossible. Hence, Mexican French fries = Canada, according to Canada's adorable logic, might not work.
Let's not even begin to coo at that cute little food truck, which is, of course, emblazoned with blueberries, apples, wine and salmon — things that just scream "Poutine And Beef Pies Served Here."
In the spirit of Canadians trying too hard, you can read more about the initiative in the very long, very earnest Post article below.
Have a tip we should know? tips@mediaite.com