New York Post Misidentifies Local High School Track Runner As Boston Bombing Suspect
The New York Post has again distinguished itself in its coverage of the Boston Marathon investigation, this time misidentifying the two suspects authorities kinda-sorta maybe have in mind.
Over a photo from the marathon, the Post screams "BAG MEN: Feds seek these two pictured at Boston Marathon." In the photo, two men, one with a white cap and a backpack, are shown conversing while dark-skinned.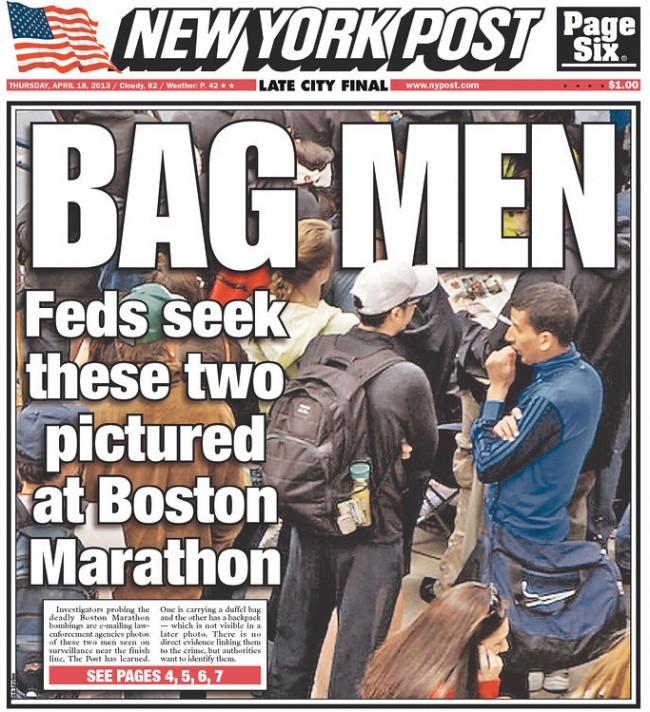 In a second photo, dire red circles spots the men clearly conspiring: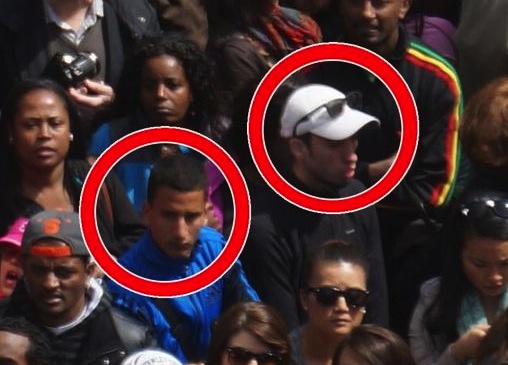 Alas, the two are extremely unlikely to be the suspects the feds are after. Reddit found one of the men pictured on Facebook, and he turned out to be a student at Revere High School, fond of posting pictures of himself preparing for track meets, or about to run a marathon.
After the man's info leaked, he protested his innocence on Facebook, and claimed to be on his way to the authorities to clear his name. Reddit and other sites have since removed his personal information.
The Post explicitly states that the FBI is searching for the two men. As Gawker points out, these photos were no doubt circulated among authorities, but along with hundreds of others. If Reddit can find a local high schooler on Facebook, so can the FBI.
John Miller, a senior correspondent for CBS and former FBI assistant director, all but rolled his eyes at the supposed identification, saying it was "not certain at all that that is the same individual that the FBI is looking at from the security cameras they've downloaded."
Miller added that authorities have not even released the specific photos they're looking at.
"If they can find [the suspect] without the public's help," Miller said, "that allows them the luxury of working in the shadows without having more of their investigation splayed out on TV and the papers."
With the Saudi national fingered by the Post on Monday turning out to have merely been "in the wrong place at the wrong time," the rag's falsely accused count has climbed to three.
UPDATE: The Post "stands by" its decision to run the photo on its front cover.
Watch Miller's full commentary below, via CBS:
– –
>> Follow Evan McMurry (@evanmcmurry) on Twitter
Have a tip we should know? [email protected]