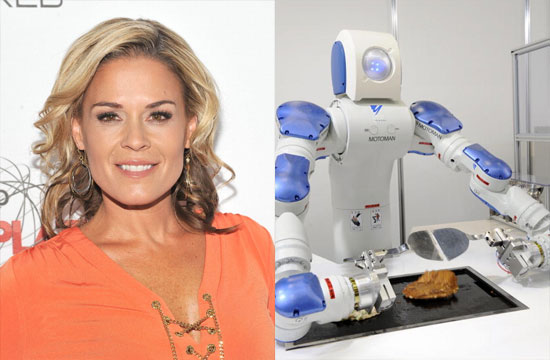 Alright, nerds. Who snuck a copy of I, Robot into Cat Cora's summer reading? Because in a recent interview with USA Today, the Iron Chef and futurist predicted that the future of cooking and eating lay in the hands of science and technology. And by that, she mostly means robots.
In Cat Cora's future (30 years from now), people will not use appliances — instead, she predicts, human kitchens will have one giant robot appliance that will prepare your food when you talk to it. And if you really want to seem like you're the one cooking the food, why not have your robot double prepare pasta al pomodoro?
People will no longer be able to claim they're lousy cooks. Android robots will do most of the work. "Technology will take over the kitchen," Cora says. "Even if you can't boil water, your personal avatar — which will look like you — will walk you through all of the steps."
And because cooking at home will have become sooooo easy, Cora predicts that the restaurant industry will shrink, replaced by only a few places that focus more on entertainment than culinary skill, which is because the robot chefs will be better than any celebrity chef known to man. There will be no more waiters, either, because — can you guess? — they've been replaced by robots.
Now we know why she was an Iron Chef: IT'S BECAUSE CAT CORA IS A ROBOT DISGUISED AS A HUMAN. (Holy wow, she really does look like Six from Battlestar Galactica.) In fact, her new title really should be the 30% Iron Chef, because she is so clearly waiting, patiently, for SkyNet to become operational once her cooking siblings robots have been installed in the homes of Americans everywhere.
Have a tip we should know? tips@mediaite.com