Charlie Trotter's Last Meal: Chefs And Friends Pay Final Tribute To Revolutionary Restaurant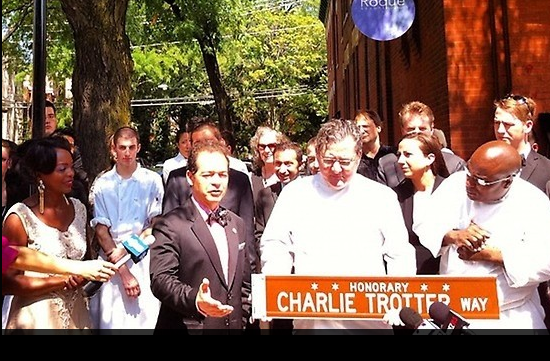 True, Charlie Trotter isn't dead, he's just going to grad school (though we know many parents of twentysomethings who would consider that a death sentence). That still didn't mitigate any of the bittersweet feelings at the dinner celebrating the last meal served at Trotter's eponymous restaurant.
A $250-per-head event, Trotter dispensed with tradition and made the event a buffet, with stations helmed by old graduates of his kitchen. Crain's reported that Graham Elliott, Anne Burrell, Mindy Segal and Reginald Watkins among others created their own dishes side-by-side with the staff from Trotter's kitchen.
The guests there had been longtime regulars, some of them for decades: that night, Ray Harris, a manager at Morgan Stanley who first visited the restaurant in 1994, was eating his 424th and final free meal at Trotter's. (After meal #175, "I couldn't give him a bill anymore," Trotter told Bloomberg News. "At that point, I wasn't interested in commerce. Ray was serious about everything from how the utensils were placed on the table to the wine. I like serious people.")
As for the menu:  "It's the antithesis of Charlie Trotter's," the chef said about the surprisingly homey fare:"spit-roasted curried goat, pork belly risotto, collard greens, shucked oysters and Kobe beef sliders." "These are things we normally don't serve."
Though he laughed and schmoozed around the dining room, clad in green plaid shorts and a chef's jacket, mother and wife by his side, Trotter says he has no regrets about his decision to retire.
"It's time to change it up," Trotter told CBS. "Otherwise, my head just might explode."
Have a tip we should know? tips@mediaite.com