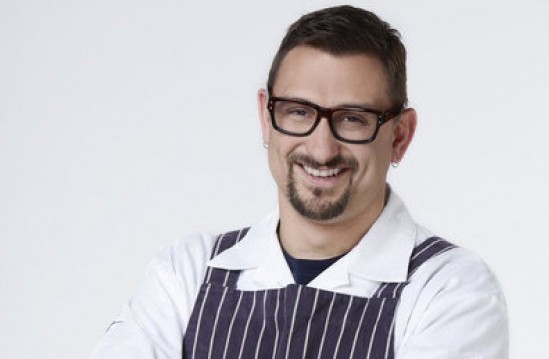 While we're in the process of compiling our own list of the most fashion forward chefs (where Marcus Samuelsson tops it and Mario Batali is the antithesis of everything it stands for), we've learned a few style secrets of the hipster-bespectacled Chris Cosentino that lands him a spot nestled amongst the top ten, for sure.
In a New York Fashion Week-inspired interview with Food Republic (run by reigning style monarch Samuelsson, himself), the Time Machine Chef winner admitted, "I am a bit of a sneaker and shoe whore," however, he doesn't follow trends, saying, "I feel that I need to dictate my own style without the help of a magazine telling me what is cool."
As for the one article of clothing he'd never wear (besides Crocs, of course)? "Skinny jeans and the regurgitated fashions from the '80s. I was dumb enough to wear that shit once and am not doing it again," he dished.
And, for those of you who fantasize about cozying up to Chris by a fire after he prepares you a delicious meal of organ meats, first of all: he's happily married and those dreams exist only in your mind, and second of all: what would he smell like when you appreciatively buried your face in his warm chest? Well, he certainly doesn't wear cologne.
Asked if he sports a favorite fragrance, Chris replied:
No. Never. I am a cook and it interferes with the food. Well, yes, I do and it's called kitchen — the smell of pork fat, rosemary and garlic, which is great when I am in the restaurant. But when I get home my wife feels otherwise.
See? Happily married.
[Food Republic h/t Eater]
Have a tip we should know? [email protected]