City Petitions Sriracha Factory to Stop Burning Their Eyes Out With Chili Fumes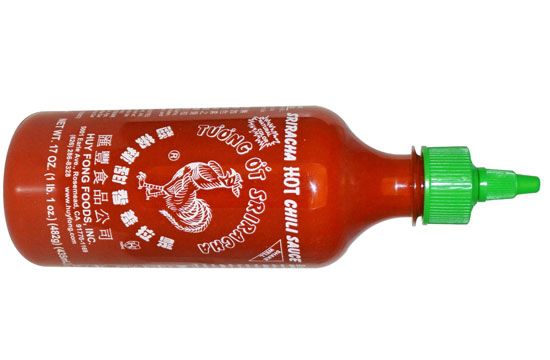 This is what the world has come to! People clamor for Sriracha, but only one man can make it, and according to everything ever written about Huy Fong Foods founder David Tran, a.k.a. Chili Wonka, he's so meticulous about the process that he will only make Sriracha in one location — a secretive factory in Irwindale, CA. (Chili Wonka, indeed!)
Apparently, there is so much Sriracha being produced that the fumes from the secretive factory are burning the eyes of the nearby townspeople, as well as causing headaches. According to the LA Times, it's reached the point that the city has formally requested that a judge order Tran to halt production of America's Hot Red Crack:
The smell is so aggressive that one family was forced to move a birthday party indoors after the spicy odor descended on the festivities, said Irwindale City Atty. Fred Galante…
"Given how long it's going on, we had no choice but to institute this action," Galante said.

Irwindale officals repeatedly met with representatives from Huy Fong Foods to discuss methods of reducing the odors, according to the suit. Huy Fong representatives cooperated at first but later denied there was an odor problem, saying their employees worked in similar olfactory settings without complaint, Galante said.
Tonight At Ten: Sriracha: A Gift To Mankind, Or A Living Biological Weapon? Experts Debate!
[LA Times]
RELATED:
Bobby Flay Blasts Young Chefs: They Think 'A Tattoo And A Bottle Of Sriracha Equals Success.
WATCH: A Sriracha Documentary That Will Drown Your Eyeballs In Rooster Sauce
Our Resident Vietnamese Person Judges All The Dishes from Last Night's Top Chef
Have a tip we should know? [email protected]