Happy Third Birthday to the Cronut: A Look Back at The Life of This Important Pastry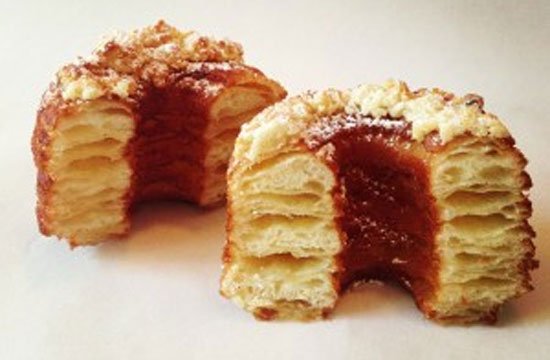 The Cronut turns three today. It's hard to believe that the pastry is so young, given that it's gotten about twenty-five lifetimes worth of publicity, but it's true. It's a very important pastry, not so much because it's delicious (though it is very, very delicious), but also because it started an unprecedented pastry craze that put Dominique Ansel on the map as a full-blown celebrity chef. Now, everything he touches turns to gold. He has since given us Chocolate Chip Cookie Shots, Frozen S'Mores, and more delicious sweets, and he's opened a Bakery/Restaurant hybrid in New York City called Dominique Ansel Kitchen. We highly recommend you check it out, but don't go expecting a Cronut, because they don't sell them there.
He's also recently gone global. Last year, he opened a Dominique Ansel Bakery in Japan, and he'll be opening one in London over the summer. The Cronut is an institution in and of itself; every month, the bakery has a new flavor (things like peanut-butter rum carmel, and burnt vanilla smoked caramel with black sugar have both made appearances). There have been imitators, but none that have been able to live up to the original. Here are some of our favorite Cronut facts and memories from the last three years:
1. That time Dominique Ansel handed out roses to the people standing in line for Cronuts on Valentine's Day.
2. When Tina Fey devoured one on an episode of Jerry Seinfeld's "Comedians in Cars Getting Coffee.
3. On the Cronut's first birthday, they handed out free "Cronut Holes." More of that, please?
4. Someone once paid $14,000 for a dozen Cronuts. It was for charity, though, so…
5. Questlove and The Roots once bartered airtime on Late Night with Jimmy Fallon, because they couldn't figure out any other way to actually get a Cronut.
6. Eric Ripert once live-tweeted himself eating one.
It's pretty safe to say the Cronut isn't going anywhere fast. And that's good, because we really could use one ASAP. Happy third birthday, Cronut!
–
Have a tip we should know? [email protected]