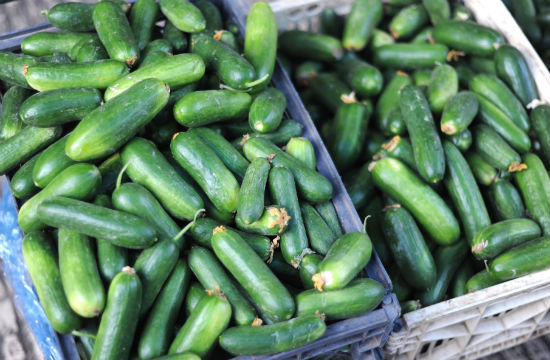 A Salmonella outbreak that sickened over 70 people is being traced back to cucumbers imported from Mexico and distributed to several groceries and restaurants by Tricar Sales of Arizona, according to The Huffington Post reports. Spreading through 18 states, the infection has reportedly hit 73 people since January. While there have been no deaths confirmed, The Centers for Disease Control says 27 percent of those affected were hospitalized. Quick, everyone start your own backyard cuke farm. Save yourselves!
This news comes only a few days after it was reported that the FDA will be conducting 18 percent fewer food inspections this year due to a loss in funding. "Even before the sequester, the FDA was able to inspect less than two percent of all food imports," USA Today reports. The department has since put two major Mexican produce firms on "import alert", barring vegetables from entering the US without proof that they are clean of salmonella.
The timing of this latest salmonella spread — people were falling ill before the sequester took effect — shows that the ill-fated cukes entered our food supply before budget cuts trimmed the FDA's control. The USDA's Microbiological Data Program was shut down back in December of 2012, bringing a huge 80 percent of federal produce testing for pathogenic bacteria to a halt. As of now, the CDC reports that there is no infected produce from the barred importers, Daniel Cardenas Izabal and Miracle Greenhouse, in stores. Although the chance of more outbreaks being reported has not been ruled out. Either way, we're not feeling so great about our industrial food sources this week. Dan Barber, can we have a crack at your fields instead?
Have a tip we should know? tips@mediaite.com