Limbaugh: If Tim Tebow Came Out As Gay, 'He Could Guarantee Himself A Spot In The NFL'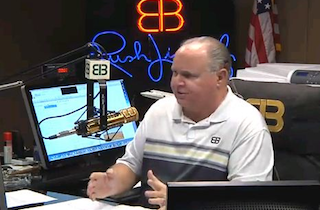 In the wake of NBA center Jason Collins announcement yesterday that he was gay, conservative radio host Rush Limbaugh said that the recently released NFL player Tim Tebow could solve all his career troubles if he were to announce that he, too, was gay. "If Tebow would come out as gay today, he could guarantee himself a spot in the NFL tomorrow," Limbaugh said.

RELATED: ESPN's Chris Broussard Praises 'Brave' Jason Collins, Even Though He's Going To Hell
"Is it too late for Tim Tebow to come out as gay?" Limbaugh asked after noting that the former Denver quarterback was recently released by the New York Jets. "If Tim Tebow were to announce that he was gay, wouldn't the NFL be forced to find a team for him to play on?"
Limbaugh said that the NFL could reclaim their status as America's most popular sport from the NBA if they were to find a gay player to promote.
Limbaugh addressed an imagined critic who he claims would suggest that Tebow is "too Christian to be gay."
"What if he were?" Limbaugh asked. "I bet it still wouldn't be enough."
"He's so Christian, he so identifies as a Christian that even being gay couldn't overcome the burden of being a Christian in our culture or our society today," Limbaugh said. "He's a flaming Christian and that wouldn't help him if he were gay."
Listen to the clip below via The Rush Limbaugh Show:
h/t Daily Rushbo
> >Follow Noah Rothman (@NoahCRothman) on Twitter
Have a tip we should know? tips@mediaite.com