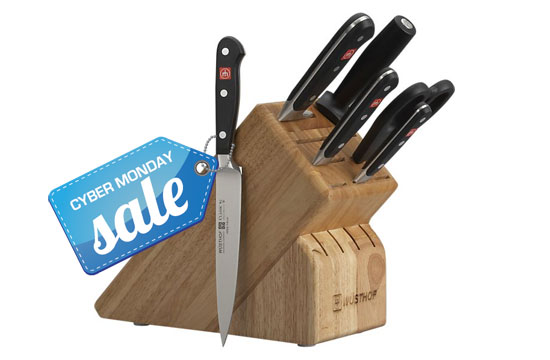 It's Cyber Monday, and normally we would rail against the corporate overlords who attempt to stoke our greed by inducing sales, tempting us with shiny new knives, Dutch ovens, and copper-bottom sauté pans. Rationally, we know that the time-limited scarcity induced by holiday shopping and so-called "savings" is just an artificial economic stimulus that —
Wait, what? 40% off a KitchenAid stand mixer? For real!?
Okay, forget everything we just said; Cyber Monday is awesome.
In the spirit of a Very Merry Corporate Christmas (and maybe Korporate Kwanzaa), we rounded up all the online holiday deals we could find at our favorite kitchen supply stores. For the professional chef in need of a knife to the baking obsessive in your life, this is for you.
Now spend your money and boost the economy.
Le Creuset: Free shipping, plus free gift with purchase (and by gift, they really mean gift: hellooooo, free five-quart French oven!…with $1000 purchase. Uh, we'll take the free cookie cutter instead.)
Michael Ruhlman: 50% off all Dalton-Ruhlman tools with the code "GOBBLE"
Korin: 15% off all Japanese knives with the code "KS1213". Valid until December 31st. (KNIVES FOREVER!)
Williams-Sonoma: Up to 25% off all purchases and free shipping with the code SAVENOW. Valid until December 8th. UGH WE'VE WANTED WAFFLE-WEAVE TEA TOWELS FOR FOREVER AND NOW OUR DREAMS HAVE COME TRUE.
Calphalon: Free shipping until December 2nd, 11:59 PM PST. That's it? That's your one concession to Cyber Monday? Calphalon hates America, the damned Frenchies.
Sur la Table: These guys are going NUTS with Cyber Monday. Save up to 70% and free shipping on orders over $59. (Holy shit, we just saw a 14-piece Wüsthof knife block for $170. This is the meaning of Christmas!) Ends tonight at midnight PST.
Bed Bath and Beyond: Free shipping today. Meh.
CHEFS Catalog: Free shipping on orders over $25 and up to 70% off sale items. The big ticket item: mondo savings on KitchenAid stand mixers, which are The Best Things Ever.
World Market: 20% off all items and free shipping for orders over $100. If you ever wanted cheap-ass kitchen tchotkes, this is your deal.
Wayfair: Up to 70% off these items and these items alone. Um, they're…things. They're nice things. We guess.
Crate and Barrel: 15% off all items…except for items made by the following manufacturers: "Breville® USA, Global® Cutlery, Hurom, Kyocera®, Le Creuset®, Mauviel, Miele, Nespresso®, Schmidt Brothers® Cutlery, Shun®, Staub® USA, Technivorm-Moccamaster™, Vitamix®, Weber® or Wüsthof®." So basically this discount is good for buying flimsy wooden spoons, which, if that's your thing, you do you.
RELATED:
Costco Will Close for Thanksgiving: Employees 'Deserve…to Spend Thanksgiving with Their Families'
Want to Cook Like a Celebrity Chef? Introducing the 'Searzall' on Kickstarter
Heston Blumenthal To Lose TV Spot After Survey Reveals That Brits Don't Care About Celebrity Endorsements
Have a tip we should know? tips@mediaite.com