5 Awesome Reasons Mission Chinese Food's Danny Bowien Is The Least Chef-y Chef Ever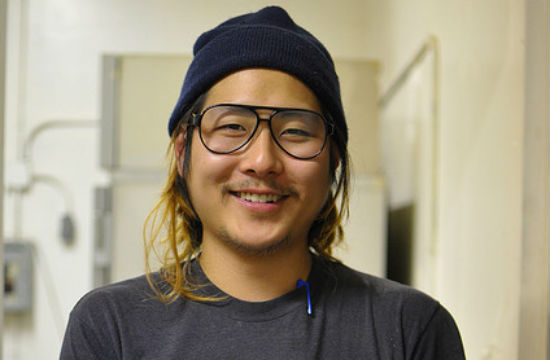 Danny Bowien's New York location of Mission Chinese Food has been open just over a month now, and while he has his eyes set on Brooklyn next (with a Mission Chinese location off the Metropolitan stop), this charitable chef lacks a lot of the major qualities we see in rising stars his age. We couldn't stop ticking off the red flags in his recent interview with Time Out New York. So, here, we've compiled 5 contrary quotes proving that Danny Bowien is, in fact, the least chefy chef, which, for our purposes and/or growing obsession, is really a compliment. Facts:
1. He doesn't take a salary in New York, because he donates $0.75 of each dish to charity.
"We've raised almost $150,000 in San Francisco for the Food Bank, [which makes] you feel like you can mess up a little bit and still be okay. I'm not taking a salary here [in New York], so that I can just put everything back into the restaurant and our cooks."
2. Fuck authenticity/culinary imperialism/fusion hatin'.
"Authentic isn't even good sometimes. I've been to fucking China and I've had some of the best food and some of the worst food [there]. I had Peking duck in Beijing at Da Dong, which is the most famous place, and it fucking sucked."
3. He quit working fine dining gigs in New York because, no, he did not like getting his ass kicked. So what?
"All the chefs were cooking circles around me. Some of the people I worked with hated me. I wasn't doing cocaine on the line and I wasn't drinking. Also, I wasn't a great line cook. I sucked back then. The [other cooks] were serious, but they didn't take themselves seriously. The whole time I was getting yelled at I just thought, You know what? At the end of the day, I'm going home to think about work and I'm going to come back and try to be better tomorrow. You guys are already great, but you're blowing it now. You're just going out and spending all your money on drugs and alcohol. You have no quality of life. [One time] I looked at this guy who treated me like shit and basically beat me all the time and said, 'One day you'll respect me.' They hit me and threw stuff at me. I never want to treat my cooks like that."
4. He refreshingly lacks that vintage chef/owner arrogance.
"At the end of the day, I still suck. I just have fucking awesome cooks around me to make me look good. We're not revolutionizing anything. We're not doing what Wiley [Dufresne] did at wd~50. We're just making tasty Chinese food."
5. Despite the fact that he's still coasting on his rise to fame, he can't wait to get out.
"I just turned 30. I'm going to try and retire when I'm 35 if that's possible. I'm going to move back to Oklahoma, where I'm from. I'll play music again and cook for my family. I just want to make sure that I still enjoy cooking."
Danny Bowien, you're such a compelling enigma!
Read the rest at Time Out New York.
Have a tip we should know? tips@mediaite.com